In the Blat Pack blogs, we have endeavoured to showcase some of the great motoring events that we have been fortunate enough to attend. What we have discovered through our attendance is that it is the people involved in them that make these events so great. Specifically, the people who organise them, facilitate them and compete in them. So, we wanted to start featuring some of these people and find out a little bit more about their stories.
Recently we had the great pleasure of sitting down with Alan Wood. Alan is well known to many a motorcycle rider from the Canberra region, spending over twenty years in the motorcycle industry. In fact, he has spent his whole life in and around motorcycles, which makes him a fascinating bloke to chat with.
Born in Leeds, Yorkshire, and growing up in the 1950's, his family moved to Morecambe in Lancashire when he was about 7 years old. As a talented and successful junior soccer player, football was his first love, however after his family moved to Morecambe, his second love was revealed when his father opened a motorcycle shop – 'Les Wood Motorcycle Sales and Service'. In addition to running the shop, his father also became the secretary of the 'North Lanc's Motorcycle Club' and prepared (or in Lancastrian speak), "fettled the bikes" for a number of the local competitors. One such competitor, Jimmy Meadows, was a man who 24-time Isle of Man TT winner, and fellow Morecambe boy, John McGuiness, describes as a legend.
In those days there was no such thing as a pee-wee 50, so Alan learnt to ride on a 125 two stroke Royal Enfield with a tank mounted gear shifter if you don't mind! After finding his feet, it wasn't long before local legend Jimmy Meadows was giving the young Master Woods lessons in how to jump his bike and generally get around at pace. Alan recalls the weekends were always filled with some motorcycle event or other, be it flat track or scrambles, full of bikes from the golden era of British motorcycling.

After emigrating to Australia with his family in his early twenties, he began racing a Bultaco in the cut and thrust of 1970's short circuit racing. He then graduated (which according to Alan is a euphemism for 'when he got more money'), to a JAP powered Hagon framed mount and expanded his racing to include both short circuit and flat track events, competing throughout the NSW Riverina.
Away from the track however, work started to demand more of Alan's time, enforcing a hiatus from racing from about 1979 to 1992. Upon his return to competitive motorcycle riding, it was to bitumen and classic racing that Alan returned; coming back to compete on and against the wonderful bikes from his youth in England. Alan cites the influence of watching Peter and Paul Dunster on their classic bikes as the catalyst for his entry into the historic racing scene.
Alan's first competitive outings were aboard a Matchless 500, a methanol-fed beast that had no brakes beyond their first application, and which also had the habit of jumping out of third gear; all of which made corner entry somewhat problematic. Alan persisted with this for a couple of meetings before moving to a 1961 Norton 650 Dominator. Getting back into the racing groove, Alan had his eye very much on what was then the blue ribbon of classic racing, the 500cc class. This ultimately saw him purchase what became his most successful bike, the Norton ESO Special. The bike was purchased from well-known racer, journalist and author Jim Scaysbrook.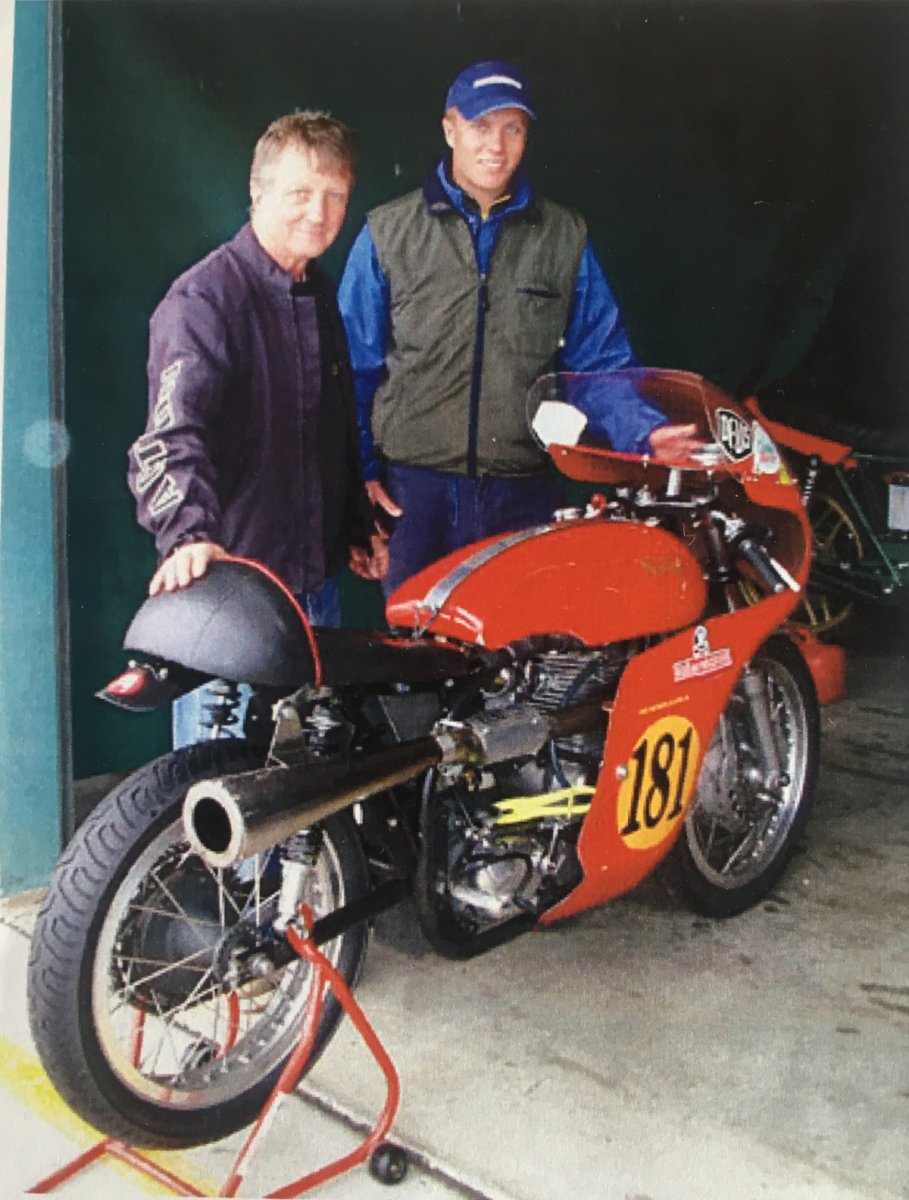 The ESO, originally based on the JAP engine, was built in Czechoslovakia and was predominately a speedway engine. However, with the help of Brisbane based engine builder Mick Farrell, this modified speedway-based push-rod engine ultimately held its own with the overhead-cam offerings of race-based replicas like the Molnar Manx and others. Aboard the Norton ESO Special, running in Period 3 for bikes up to 1962 in the 500cc class, Alan won the NSW Titles in 2003 (Eastern Creek), again in 2006 (Oran Park) and the Victorian Title also in 2006 at Broadford. Winner of 2004 Autumn classic (Oran Park) and the 2006 Southern Classic again at Broadford. As part of the Canberra Team he was a four-time 'Bobby Brown Teams Trophy' winning member; and was the winner of the 'Sound of Singles' event at the 2005 Barry Sheene Festival. Alan was also a podium finisher in the Australian National Titles in 2003 (Perth) and 2005 (Tasmania). In fact, the 2003 Australian title is very much the one that got away. Having placed second in race one and starting off the front of the grid for race two next to Superbike racer Peter Guest, Alan was in the hunt. The start of race two was a slightly confused affair, where Guest clearly jumped the start earning himself a 12 second time penalty. After finishing second on the road to Guest, Alan rode through parc ferme to the congratulatory pats on the back of his leathers from fellow competitors who believed he had won the race and overall title; only to find out subsequently that he had also been slugged with a jump start penalty.
In 2006/07, through an association with Rod Hunwick, Alan became the factory rider for an emerging enterprise based out of Camperdown. Hunwick had combined with Dare Jennings of Mambo fame and designer Carby Tuckwell in 2005, in a little venture called Deus Ex Machina – you might have heard of them! It must have been an incredibly exciting proposition having this early association with what would become the iconic Deus. In 2006 Deus ran sponsorship on Alan's Norton ESO Special. However, in 2007, Deus purchased and prepared a 1961 Norton Molnar Manx 500 for Alan to campaign.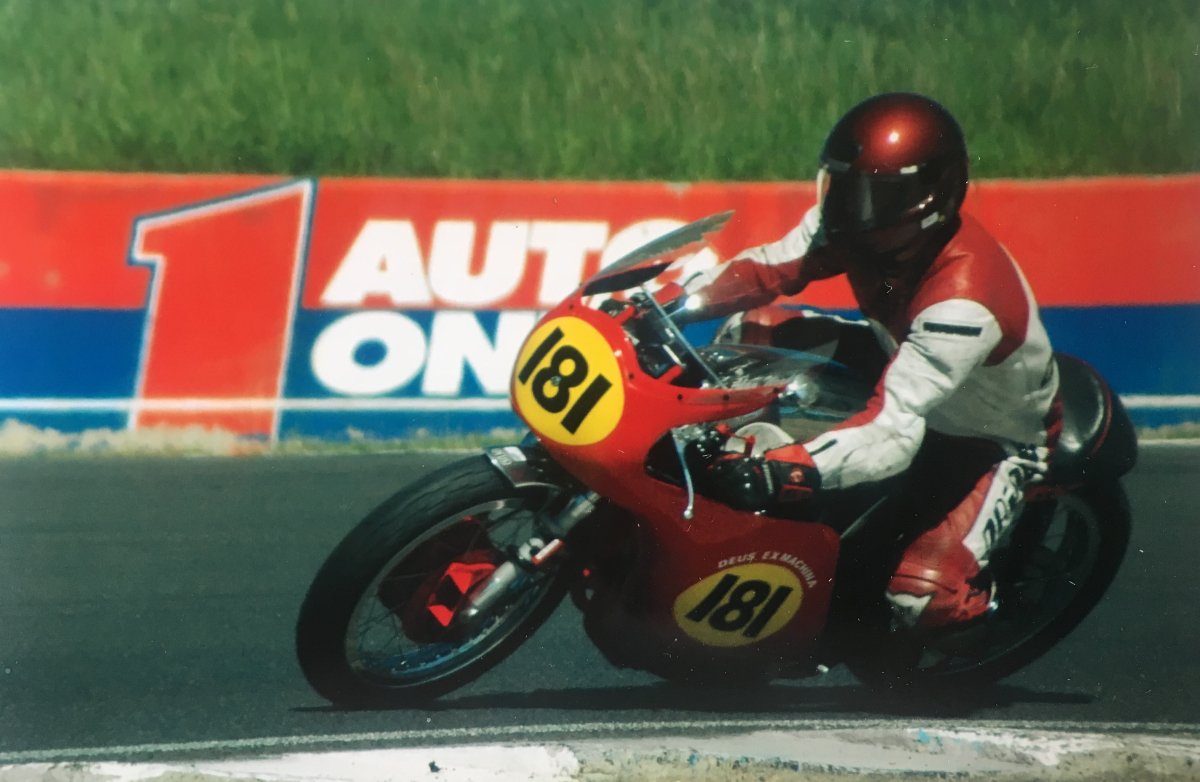 Running at a number of classic events during 2007, Alan and the Deus Norton made its maiden outing at the 2007 Barry Sheene Memorial Race Meeting. As you would expect it was a beautiful bike, and according to Alan, very fast. Unfortunately, despite running strongly, the meeting ended in a painful DNF. As noted in a contemporary race report "Alan Wood (Deus Ex Machina Manx Norton) had run in the top four before an engine lock-up threw him off".
At the 2011 International Island Classic he had the opportunity to race the 350cc and 500cc Hondas for Col Campbell.

This foray into classic Japanese motorcycles is remembered fondly by Alan who assessed the Jerry Kooistra built 500 as being one of the most impressive bikes he had ever competed on. And he must have really liked the 350 too, as that machine saw him win the class outright.Throughout his classic racing career Alan competed almost exclusively under the racing number 181.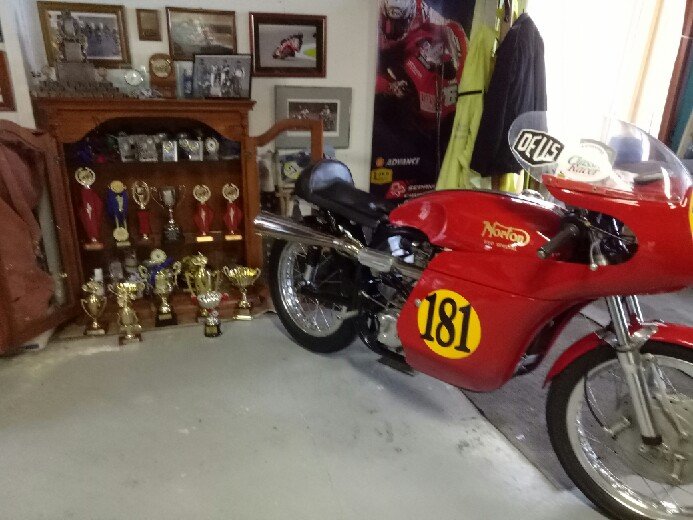 He claims ignorance of any double entendre such a number may construe and became linked to this number, running it up to and including his last competitive ride to date at the 2017 Australian Titles. In a nice piece of symmetry, his last ride to date was aboard Peter Dunster's 350cc Velocette. However, whilst nothing is confirmed, it would not surprise us in the least if we don't see 181 back in action during 2019. In the interim however, Alan is an active member of the ACT Vintage and Veteran Motorcycle Club and enjoys getting out on his classic road bikes; a 1951 Triumph T100 and a 1957 Matchless 600 twin.