I left late and hit traffic on the M5, finally arriving at Darling Harbour at 1230, which leaves me just 2hrs to do the whole shebang and be back on the road with any chance of getting home in time for dinner. No worries I think to myself, it'll be tight, but I reckon I can do it. I buy my ticket and head through the door.

The first stand I hit is the Triumph display, disaster! Full disclosure, I love all things Triumph, and spent a good half an hour ogling all the pretty machines, a quarter of my time gone on the one display, argh.

One bike that really caught my eye was a supercharged Thruxton, done by BikeBiz Sydney. It's a very nice piece of engineering, and the hoon in me realised it should should also bolt straight onto the Bobber as well. Bag it up!

Next up on the Triumph stand was the Salt Racer, which is demonstration of function over form in every respect. A couple of things that stood out were, what I think is, the regulator/rectifier mounted where the headlight would be, presumably to maximise the cooling effect. The other notable feature is the absence of any front brakes. I'm not sure what the top speed of this beast would be, but I can't imagine it would end well if you touched the brakes at full pelt on a salt-crusted lake bed with soft mud underneath, ouch.

Moving through the other displays it was clear that the Harley Davidson stand was the biggest, brashest and most popular, at least judging by the number of people climbing and drooling all over the 20 odd bikes on display! It certainly was an impressive line-up. The demographic was decidedly towards the upper end of the age range, and there were also quite a few couples too. I didn't get to see much, there were just too many people and I didn't want to waste more time.

Moving outside, there was a custom bike show of sorts, with an eclectic collection of heavily modified machinery, ranging from Harleys and Triumphs right through to a funky little scooter called a Hunter. Check them out if you're after something completely different. There was even a Honda Super Cub beautifully decked out, in rose gold paint, and complete with a surfboard!
Also outside was the Osset trials bikes display and the Yamaha training track. It was great to see the little tackers buzzing around, wonder how many future champions were there that day?

After heading back inside I bumped into my brother from another mother, Mr Squiggle. For those of you too young to remember Gary McCoy, he was a former 125cc and 500cc GP and Superbike race winner, famous for spinning up the rear and laying long black ribbons of rubber when coming out of corners. I reckon if they could have developed a tyre that could stand the abuse, he would have been a multi world champion... We had a brief chat, he runs a coaching school and a cafe now, and it turns out he's a nice bloke to boot.

Next on the agenda was to catch Dave McKenna doing stunts on a Yamaha MT01, crazy stuff. The floor surface was slippery, but rather than hamper his endeavours, it seemed to enhance them, it was an impressive display of bike control. When I first turned up to the fence there was a big jump set up with a semi trailer landing ramp, and I thought he was going to jump a bunch of cars, Evil Knevil style. Gotta admit I was a tad disappointed when it turned out the jump was actually for Jack Field on a KTM, and wasn't to be used by Dave McKenna.

Next stop was the Ural stand. I've always had a secret fascination with the outfit (shh, don't tell anyone) but I've never ridden (driven?) one. I've been toying with the idea of getting one to avoid the inevitable disappointment when I take one son for a ride and the other has to stay home. Unfortunately we don't get the two wheel drive version, known as the Gear Up, in Oz because the drive shaft is on the wrong side and the ADRs don't allow for a side car on the right hand side. If you could get the Gear Up here, I reckon I'd pull the trigger on one and take the boys bush for some camping. The usual models were there, the cT (entry level) and the Tourist (aimed at touring, funnily enough), but the standout in terms of sheer looks, was the 75th anniversary 'Ambassador' in Bronze metallic paint, it looked great. The photo doesn't quite do it justice. My favourite though, was the Sahara. Based on the Ranger, which is off road oriented, it has been fitted out with all the fruit, virtually every available adventure farkle you can think of has been bolted on, it even had a healthy layer of mud still on it (I refuse to believe that it wasn't genuinely acquired through actual dirt riding, that would be too cynical!). It looked like you just needed a trusty blue heeler, and some body armour, and you'd be ready to outrun the apocalypse.

Next up was a quick squizz at the BMW stand, I didn't linger too long as the clock was ticking, but I did spy a couple of nice RNineT models in various guises from cafe racer to scrambler.

From there I meandered around to the SWM stand. Whaddya mean you never heard of them? You been living under a rock?! Seriously, I'd never heard of them either. Turns out it's a resurrection of an old name that enjoyed quite some success in motocross in the seventies. They ceased production in 1984. Built at the former Husqvarna factory in Lombardia, Italy they are aimed squarely at the budget conscious buyer with the most expensive model, the Superdual coming in at a very reasonable $9,990. The little cafe racer, called the 'Silver Vase' was actually pretty cute and for $6k, how could you go wrong? (don't answer that, it was a rhetorical question). I can see these bikes becoming the base for some radical mods in the future. Look out Enfield!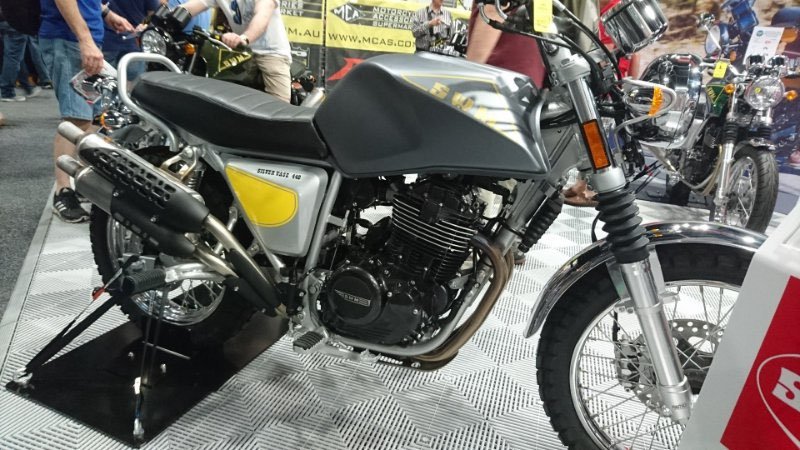 Just to complete the 'new to me' section of this write up, I also stumbled across the Torino, more sub $6k fun, this time in a V-twin format. They certainly pass the first glance test as something interesting, and worth closer inspection.

Some more familiar names that put in a good showing were Ducati, Benneli and MV Augusta. The Lewis Hamilton MV was pretty special, and I'm a huge fan of the Dragster, but I was rapidly running out of time and had to keep moving.

Across the walkway from the Torinos were some pretty wild trikes, think I'll just let the photos do the talking here, not sure that it's possible for me to value add. You either love 'em or you don't...I don't, but each to their own!

Believe it or not, I've left quite a bit out, such as the Yamaha, Honda, Sherco and 'Fonzarelli electric moto' (yep, that's a thing) stands, not to mention all the equipment and gear vendors. Not because they weren't interesting, I just didn't have time to do them justice, so I tried to find things that were out of the ordinary.

Well that pretty much wraps up my visit to the Sydney Motorcycle Show. I didn't spend as much time loitering as I would have liked, but it was still fun checking out what all the vendors had to offer. I was pretty well behaved, and only bought myself a Rocky Creek Designs in-line pressure gauge. I figured the kids could give it to me for Christmas so I wouldn't feel too guilty.

So, you can do it in a little under 3hrs, but I wouldn't recommend it. It's on again in 2 years so if you decide to go next time, allow yourself a full day if you can. That way you can drink it all in at a more civilised pace.

In case anyone is interested, I made it home just in time for a fantastic roast pork dinner, with a plethora of side dishes and desserts. Luckily the after-dinner Nerf gun war with the kids burned off a few of the excess calories (although probably nowhere near enough!).