From the 22nd to 25th March, Blat Pack were at Sydney Motorsport Park, running a trade stall at the 2018 edition of the International Festival of Speed. It's a cracking event, put on by the Post Classic Racing Association of NSW. Finding its antecedents in the Barry Sheene Festival of Speed, the event has grown in prestige to become one of the events to attend on the Australian motorsports calendar. Go to this link on our YouTube channel and check out the sights and sounds of this year's event and discover why we believe the relevance of this event and others like it are so important.
Conditions were changeable through the early parts of the event. Thursday's practice was sketchy all day, Friday had a bit of everything and Saturday and Sunday were mainly warm and dry (despite later runners on Saturday having to contend with a very heavy down pour). Over the course of the meet there were a lot of incidents, with a number of riders falling. By all accounts this was the central theme of Sunday morning's riders briefing. Despite all of this, there was some great racing and some fantastic machines on display. The 'Legends' put on a virtuoso display of bike handling,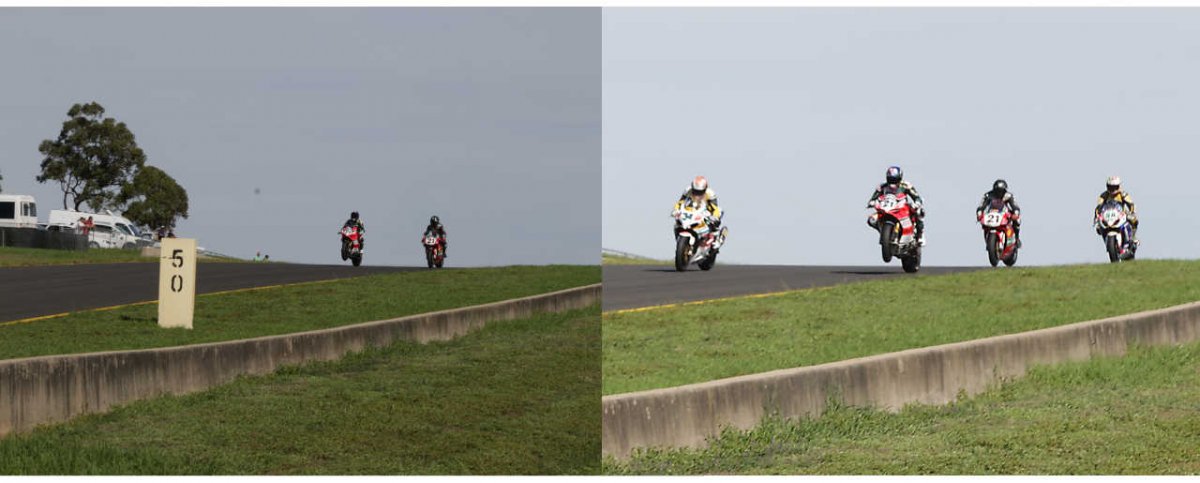 with the two Troy's pulling wheelies all over the shop like a couple of duelling banjo players. Corser and McWilliams didn't limit their engagement to the demonstration events. They joined other racers such as Australian Isle of Mann TT champion Cam Donald, competing in a number of fields and classes. For our part, many thanks to the attendees that bought items from the Blat Pack stall and those that gave encouragement and feedback on the products. We took a lot out the fact that the Blat Pack designs had managed to impress many of the rusted-on bike racers. This was awesome reinforcement that lets us know we are servicing the community that we set out to service.We met so many great folk over the weekend. Clive Carter from Copycat Classic Fibreglass Motorcycle Fairings in Victoria, (www.copycatfibreglass.com), had some of his work on hand that we keenly displayed at our stand. Unfortunately, their 1976 Suzuki TR 750 endured a weekend of mechanical gremlins that ultimately saw it garaged by Saturday afternoon.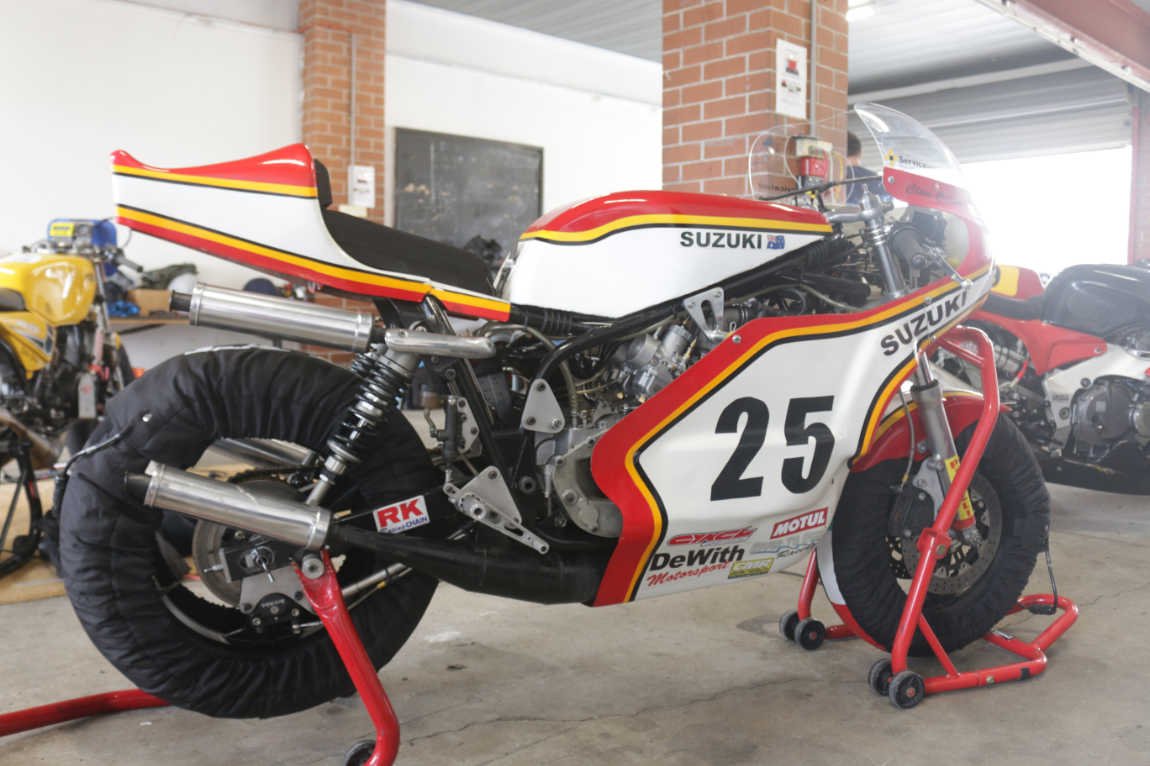 We also spent time with Peter and the guys at Peter Martin Racing (www.pmartin.com.au). Peter ran the stylish M Real Estate Ducati 1198s as part of the Legends Clash.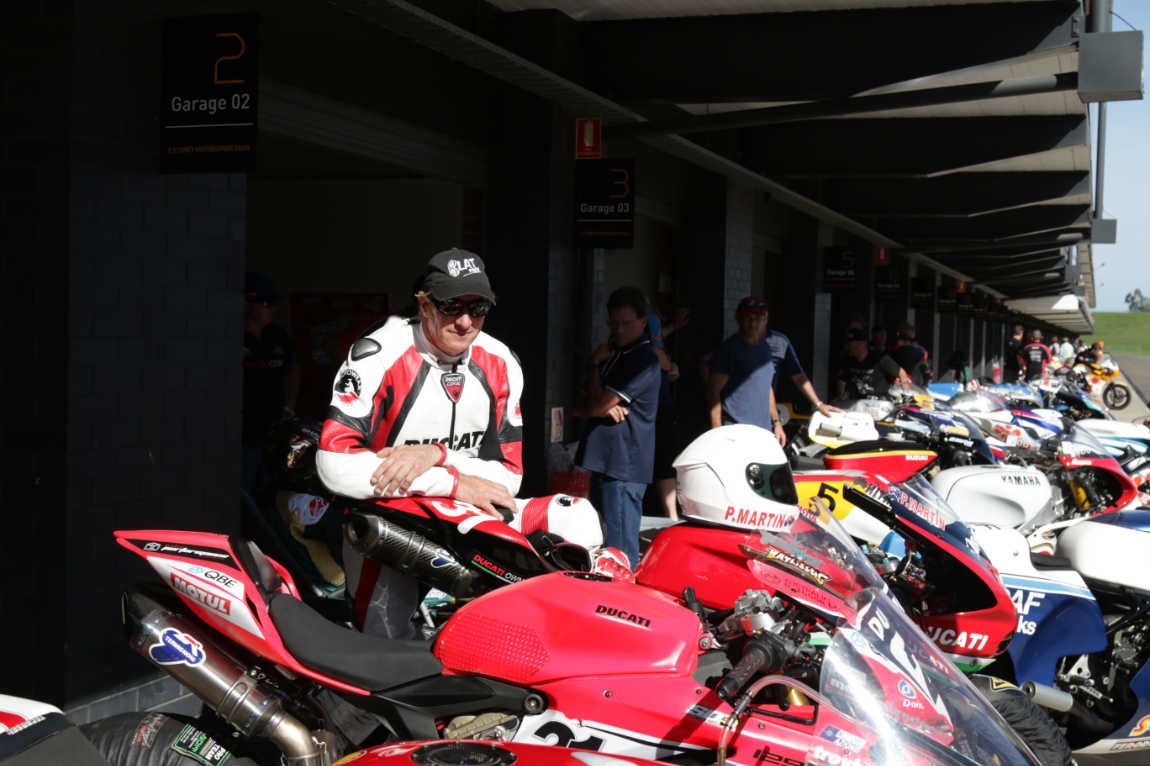 Even GP and WSBK legend Frankie Chili came by and checked out the stall, stopping for a chat and of course a quick photo op!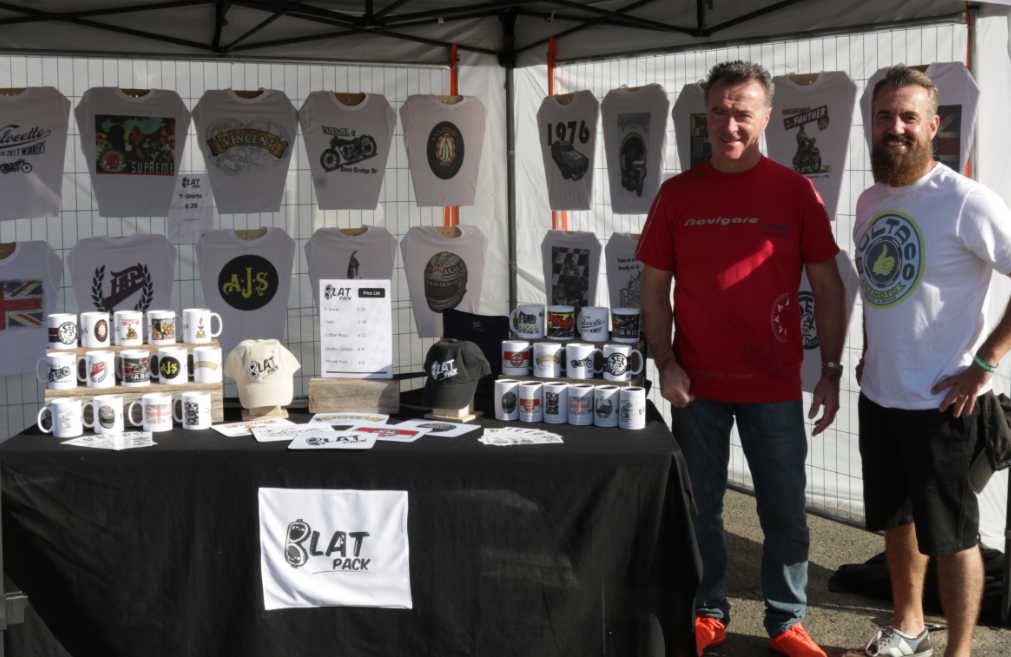 This year's event celebrated 30 years of World Superbikes, and there was no shortage of WSBK legends in attendance. The home-grown headliners came in the form of multiple WSBK champions Troy Corser and Troy Bayliss. Other GP and WSBK legends included Kevin Magee, Jeremy McWilliams, Pierfrancesco Chili, Chris Vermeulen and the irrepressible Steve Parrish. They say you should never meet your heroes, but these heroes are all class, on and off the track, and are the absolute exception to that rule.I have found that when in and around heroes and sporting icons I invariably say something dumb; my mouth seems incapable of obeying the repeating mantra looping in my brain that is screaming; "don't be a dork, don't be a dork, don't be a dork". So, despite making no sense whilst standing in front of them like a grinning automaton, the relaxed and engaging class of these guys somehow diluted the effects of my weirdness, to the extent that I still came away feeling better about myself and the world at large.In my defence, on this occasion, the dumb thing said was a little unforeseen. I told Steve Parish that I really enjoyed his work on the Isle of Mann TT coverage and was looking forward to the 2018 instalment. To raucous laughter and through thick, barely fathomable Irish brogue, Jeremy McWilliams said to Parish … "are you going to tell him or shall I … he got the sack!"
Tremendous!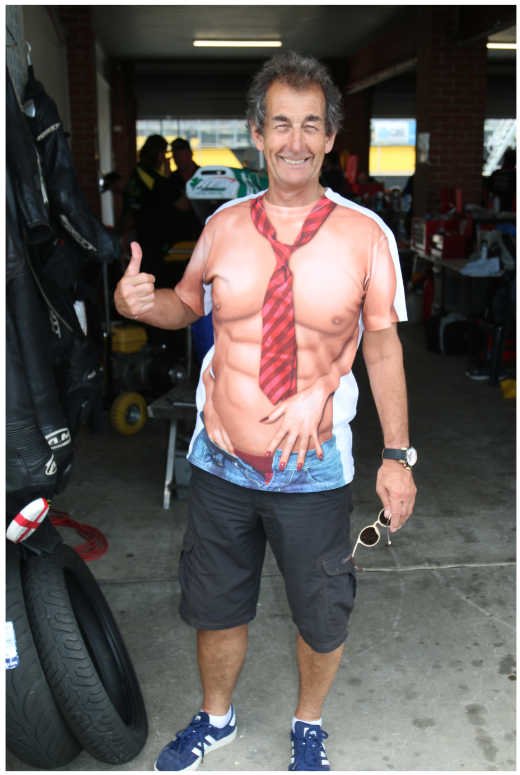 It turns out that the dullards at ITV 4 found Parish surplus to requirements – I loved him buzzing the track in his plane and doing the rounds with the punters. Anyway, as Parrish went on to explain the circumstances, in an act of reactive bravado and attempted solidarity, I blurted out – "Well that's just wrecked the TT, in fact, I for one won't be watching it this year then!"Immediately conscious of how utterly stupid that sounded, and that it was an ingratiating and blatant lie, I sought compromise that would still find favour with my hero - " errm.. actually Steve …. errm … I might watch it … bits of it anyway ….. if that's ok …. BUT…. except for when Cam Donald's talking, because he's a legend …. I'll turn the commentary off …. how's that?"
This seemed to pass muster. Reasonable recovery for a dork!

Dont forget! Go to our YouTube channel and check out the sights and sounds of this year's event.