Well … getting this online shop open is becoming a more protracted process than the Socceroo's getting a gig at the 2018 World Cup!

HOWEVER – BREAKING NEWS – THE DOORS TO THE BLAT PACK SHOP WILL OPEN
9AM FRIDAY 17 NOVEMBER 2017

The delay has been a bummer!
Not since the 1976 Hardie Ferodo 1000 (as it was called back then), has there been a bigger splutter on the starting grid. After weeks of buildup and hype around the iconic pairing of Stirling Moss and Jack Brabham, the anticipation for Bathurst that year was palpable, the flag fell and …… their LH Torana didn't get off the line. The motorsport viewing public let out a collective groan as Jack struggled with the LH stuck in gear.
Not going to lie to you – the kick we have felt from not going live on 11 November was, (to us at least), not too dissimilar to the whack received by Jack as he sat there stranded and copped a nasty touch up on the 'Chaminda Vaas' from a little Triumph Dolomite.

As best as could be gathered from the blokes in white lab coats with thick rimmed glasses and pocket protectors, our predicament was as follows. Net Registry, our service provider (now there's a misnomer for you), were unable to install the SSL which is the industry standard around encryption for a site running any type of e-commerce facility. Hence, despite a week of enquires, pleadings, tantrums, threats and finally uncontrollable sobbing …the answer remained "we are aware of the problem and our technicians are working to resolve it".
Anyway, we thought the best way to snatch back some sort of victory from the jaws of defeat, would be to embrace disaster and have some fun with it. So we are releasing a shirt to celebrate the twin disasters! So on Friday when checking out the store, check out our limited 'Brabham Moss 76 /Net Registry Sux' shirt. We are only printing 100 of them, so celebrate all things calamitous with us by grabbing one on day one.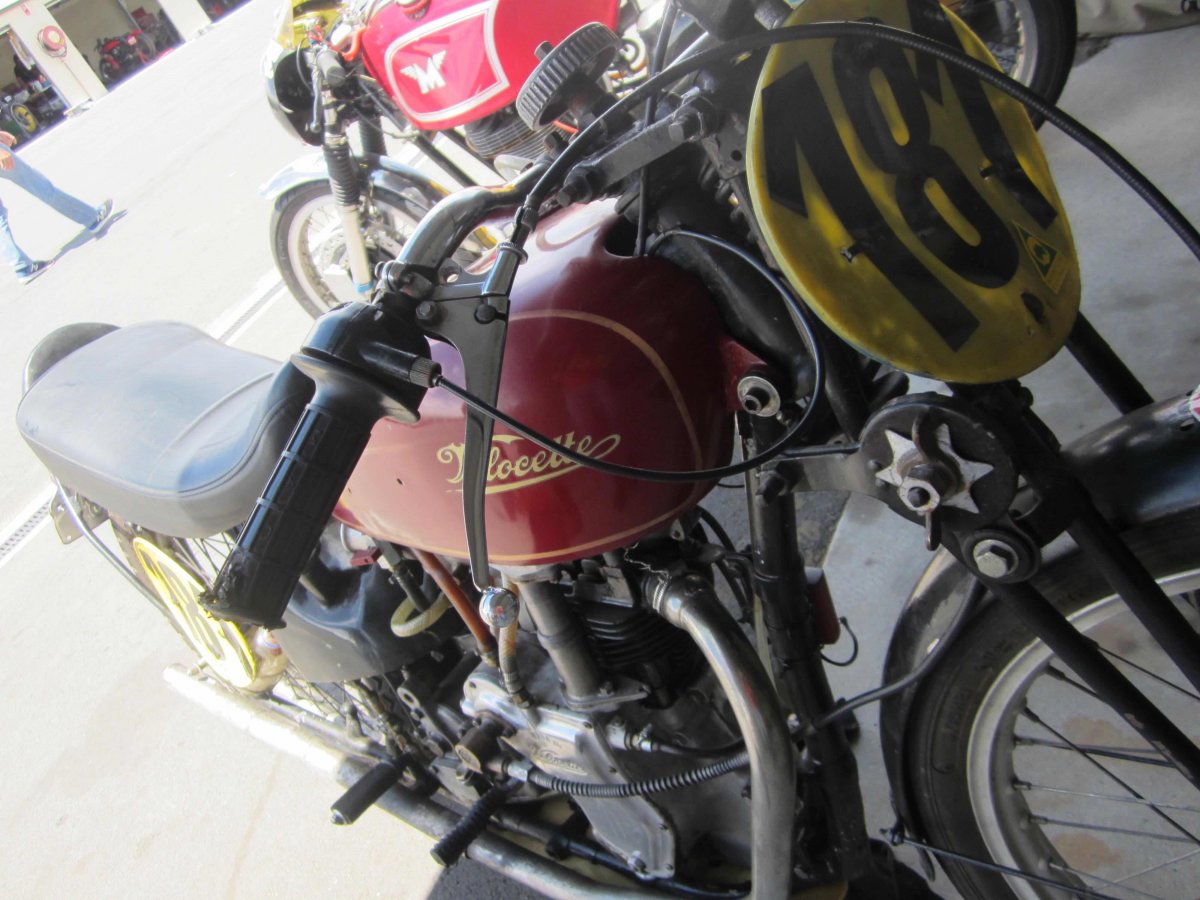 So with no orders to fill for the weekend, things would have been truly grim if it wasn't for the fact we were heading to two awesome historic racing events.
Saturday we headed to the Australian Historic Road Racing Championship at Wakefield Park. The meeting featured events in Periods 2 – 6 which represents motorcycles from 1945 through to the end of 1990. The meeting also ran Post Classic sidecar events.
There were a lot of bikes! Hundreds of bikes!
As a result the grids were full and the racing up front was willing. There were some great classic bikes there including a 1936 Velocette MAC,
a 1955 AJS 7R "Boy Racer" and a couple of 1962 Manx Nortons to name but a few.
There was some nicely turned out bikes such as the finish on a 1980 CB1100, and then there were just some things you don't see every day like the Nordian. In the tradition of combining donor engines, (in this instance an Indian), to the famed Norton feather bed frame, we can now apparently add Nordian to the ranks of the Norvin and Tritons.

Sunday saw us at Sydney Motorsports Park for the HSRCA Summer Festival. There were some beautiful machines going around. You know you're at a special event when competitors are racing for trophies with names like 'The Ron Tauranac Trophy'.
There is not enough room to cover off with any sort of due diligence the cavalcade of motoring history that was on display. Seriously it's like the best history lesson held at the coolest and loudest museum in town.
There was no shortage of Brabham BT's filling the Group O grid for racing cars 66-69. It was tremendous stuff to see them all lined up and formed up together.
Then there was the 1974 Elfin MS7. Just picture an open wheeler with a fire breathing five litre V8 race engine with Can-Am styled body work thrown over the top! There was nothing standardised or beige about the Australian Sports Car Championship scene of the mid 1970's. Sharing the same garage as the MS7 was … and I'm not making this up …. a 1986 March 86C Cosworth powered Indycar …serious!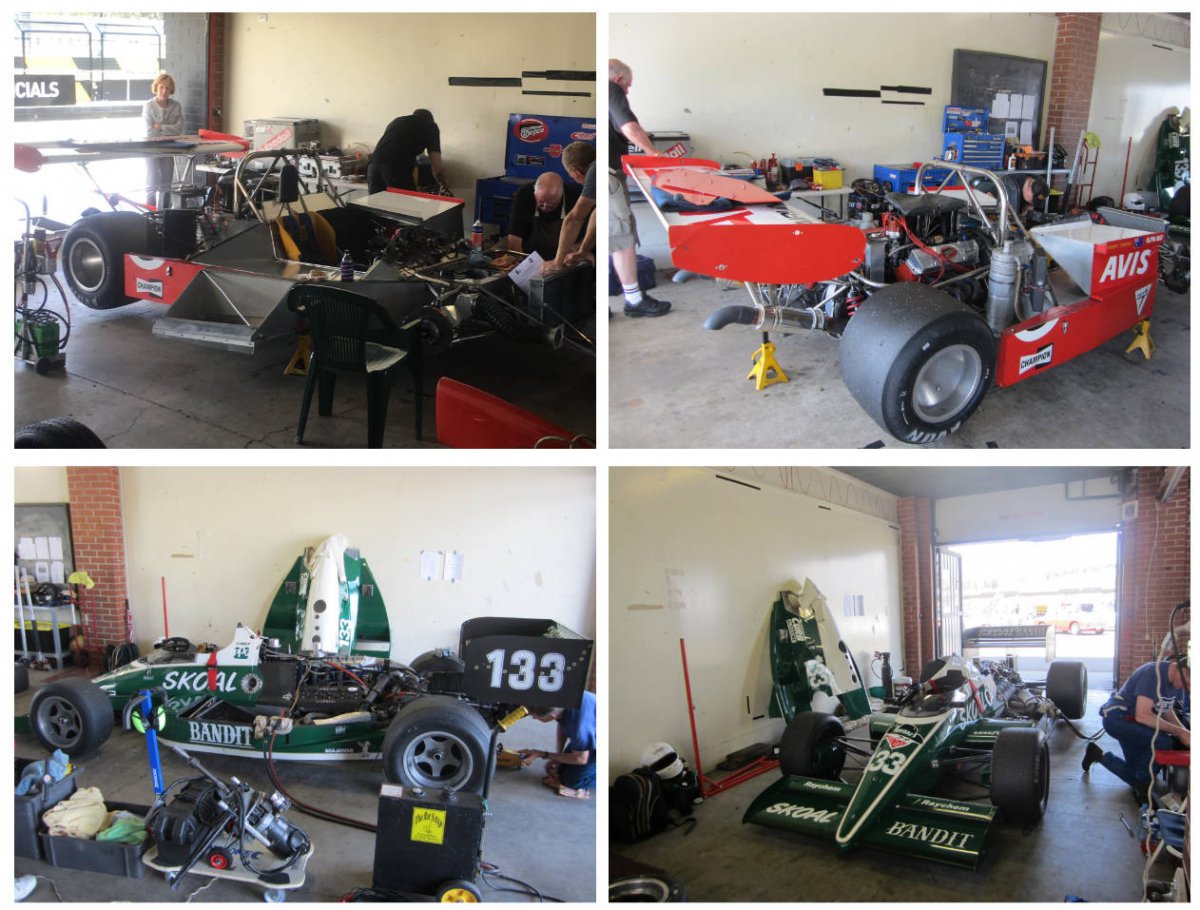 Then I saw it … yep sweaty palms, elevated heart rate, tightening of the throat, the whole bit! Sitting in one of the pit straight garages was a car that had competed in the 1974 F1 Championship - a BRM160E in full race livery. Apparently this beauty had made its way to Australia via the Donington museum, (one for the bucket list if you haven't already made the trip). Wow … just wow!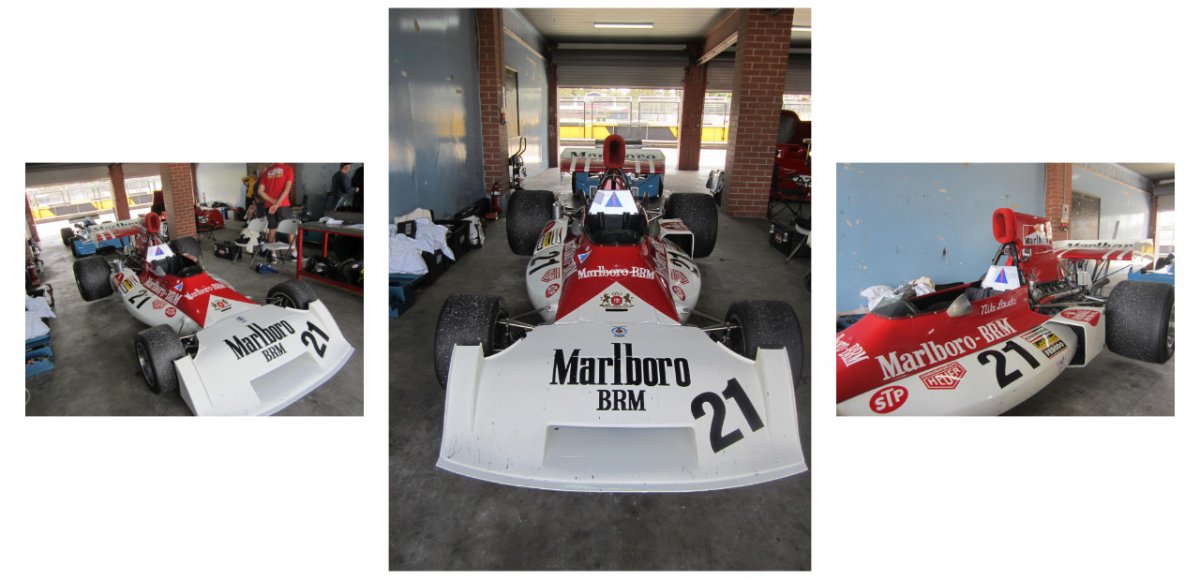 So after a disappointing start to the weekend; a goodly dose of Blat therapy had now well and truly re-centered the chi and restored the grin factor.
Please check out the shop and keep checking in with Blat Pack on Facebook as well – Cheers