So, its Father's Day weekend and the first weekend of spring – this is all trending up at this point. But what would complete this confluence of excellence I hear you ask? Well, the running of the All Historic meeting at Wakefield Park Raceway of course!
Yep for the third year running Wakefield Park played the perfect host to a cavalcade of pre-war and pre-1961 (ish!) race cars, motorcycles and sidecars. It is in this respect that the event is unique, in that it brings together the broad church of motorsports, showcasing racing on four, three and two wheels. A concept that first ran at Amaroo Park back in 1976. Given that the 1.9 km of tarmac in Annangrove has itself long since been consigned to history, this only serves to further underline the longevity of the machines that were on display at Wakefield Park in 2018.
The owners tend to refer to themselves as 'custodians', acknowledgment of the fact that many of these vehicles were manufactured well before they were born and will still be going around the track long after they've given the game away. A walk around the pits and the garages in the paddock also gives you an insight into the ingenuity required to keep some of these warhorses running. For some machines the lack of parts means they require constant finagling, running repairs, custom fabrication and a lot of support from others in the community.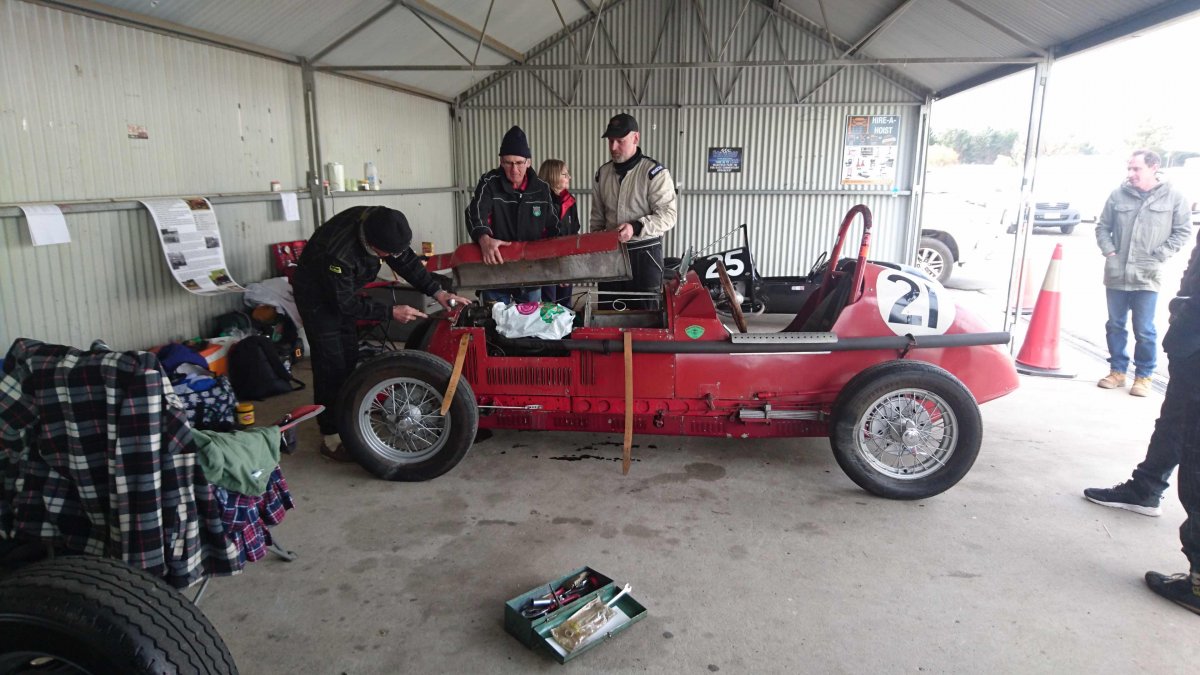 The four wheeled iconic brands on display included pre-war gems from Bugatti, MG, Dodge, Riley and Model T Fords; while post-war vehicles included Austin, Lotus, Cooper, Elfin and Jaguar.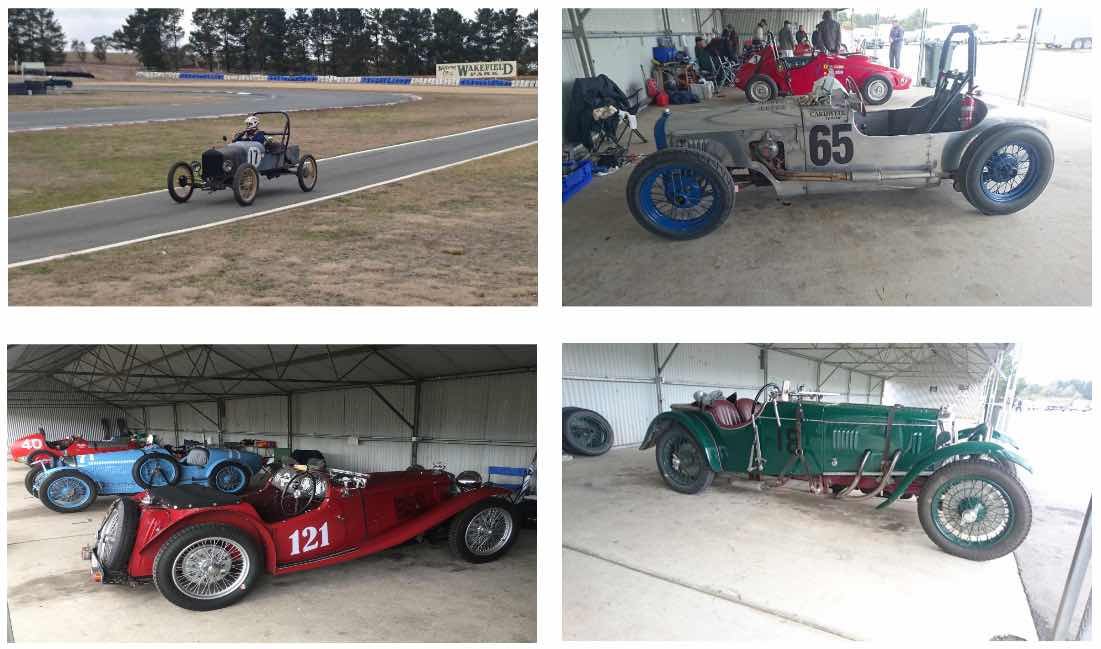 On two wheels there was a number of Norton's, BSA's, Triumphs, an AJS Boy Racer (7R), a couple of Vello's and a very cool OK Supreme Special to name but a few.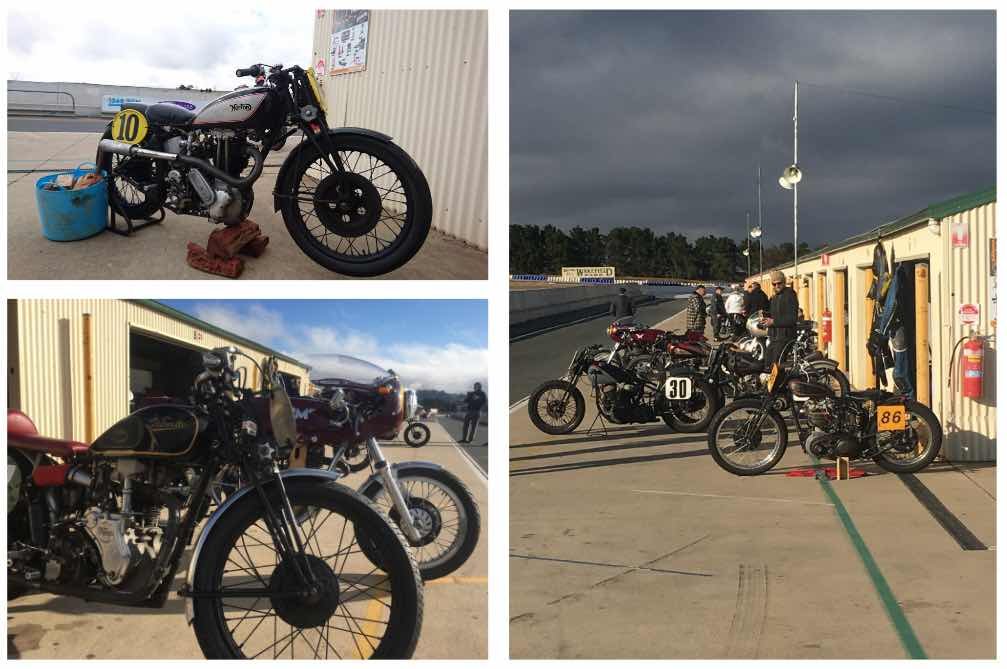 After a cessation to on-track hostilities was called on Saturday evening, the drivers, riders, support crew and fans were invited to the café area for a BBQ, a couple of beers and to enjoy the relaxing soundtrack of a live jazz band. Positioned near the café grounds was a beautifully turned out Norvin and the iconic number 51 Sulman Singer, both adding to the ambiance as presentations were made and the banter continued.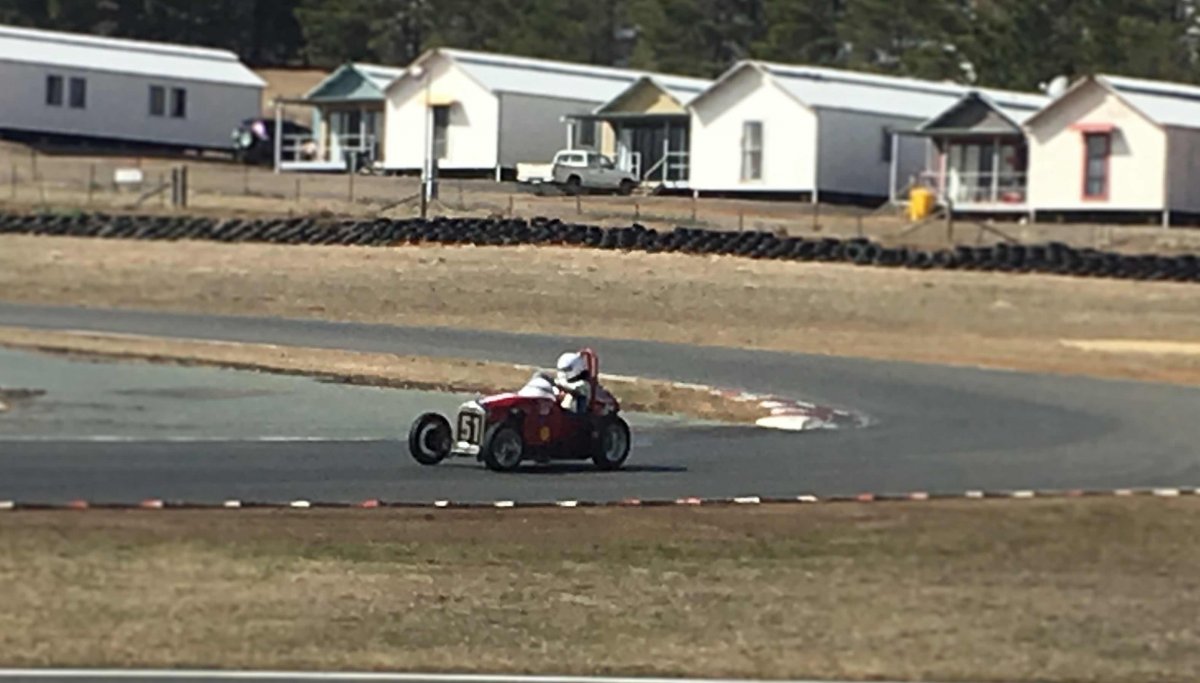 Despite all these off-track niceties however, the stuff on track was willing to say the least; with plenty of red mist coming to the fore during the handicap racing which is always a crowd favourite. The racing is not for the faint hearted – the lack of every driver or rider aid imaginable makes this form of racing a fairly brutal and visceral pursuit, and it brings with it the inevitable thrills and spills to which a flying 1926 Amilcar could unfortunately attest to.
Sunday morning saw a number of competitors, officials and race fans dress in period adding to the general vibe and colour of the day. Ken Lucas, a staple addition to any historical motorcycle event in Australia brought five bikes with him up from Wangaratta. His beloved Douglas didn't make the trip on this occasion; however, we did manage to get a shot of Ken and his whipper snapper mate Ron Matthews next to his Ron Petty built 250cc Manx Norton on Sunday morning. In the spirit of Burt Munro, (The World's Fastest Indian), you would be hard pressed to find a faster couple of octogenarians anywhere in the world.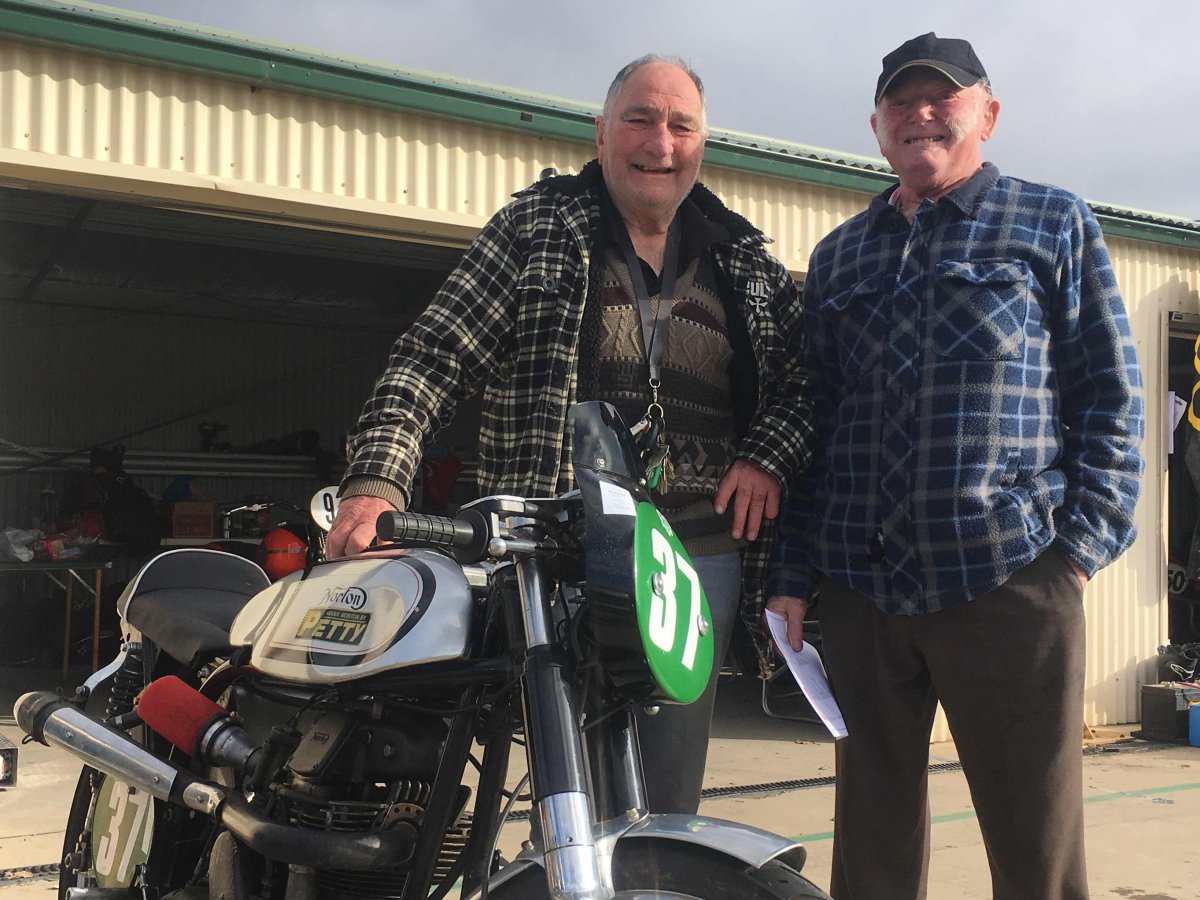 There was lots of interest in Blat Pack's pop-up stall at the event, with plenty of retro motorsports t-shirts picked up by the discerning racegoers.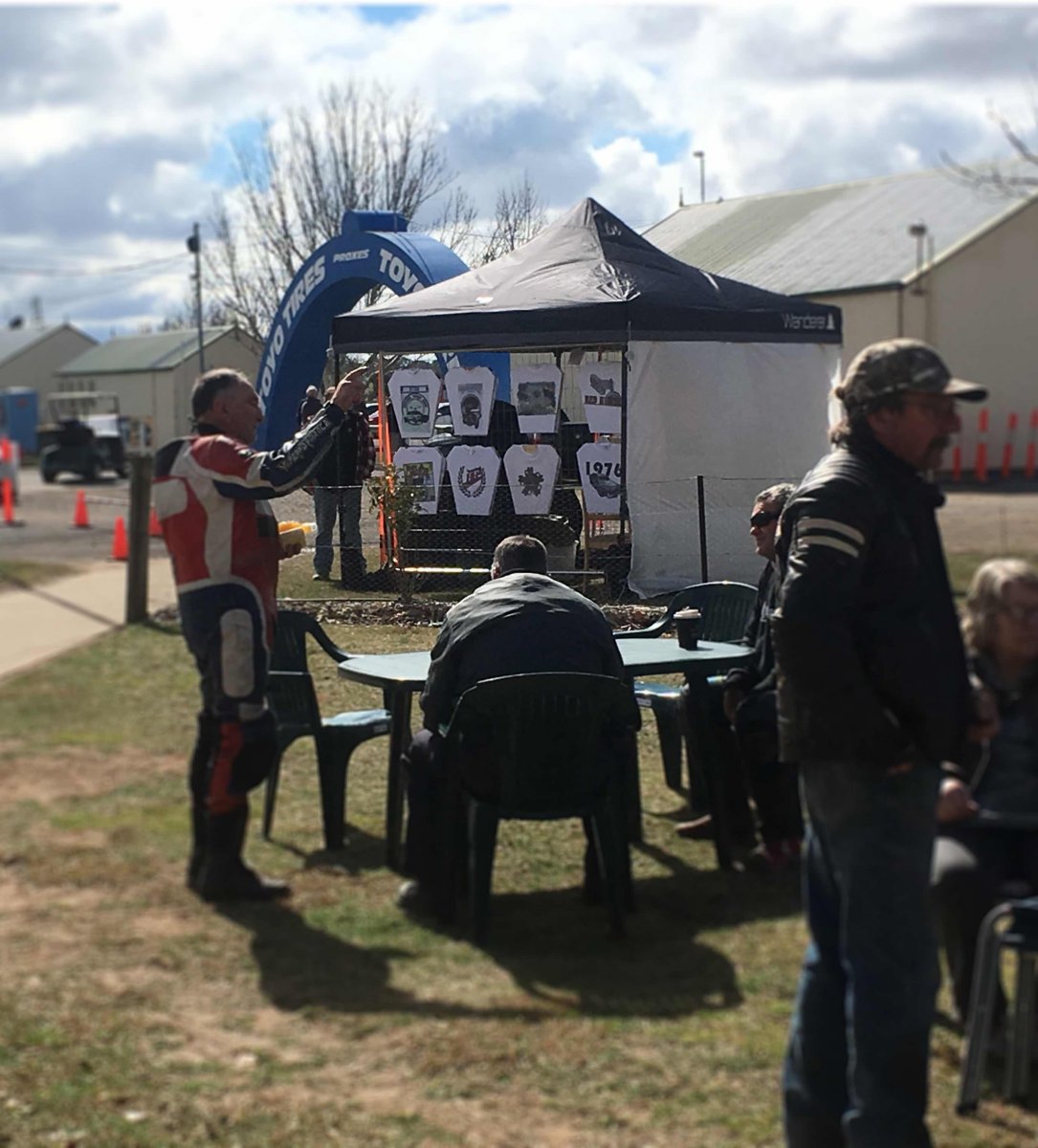 If you missed out, don't forget you can shop online at www.blatpack.com.au All in all a classic weekend. Well done to the organisers, the riders, drivers, crews and all the brilliant staff at Wakefield for putting on yet another terrific All Historic event!