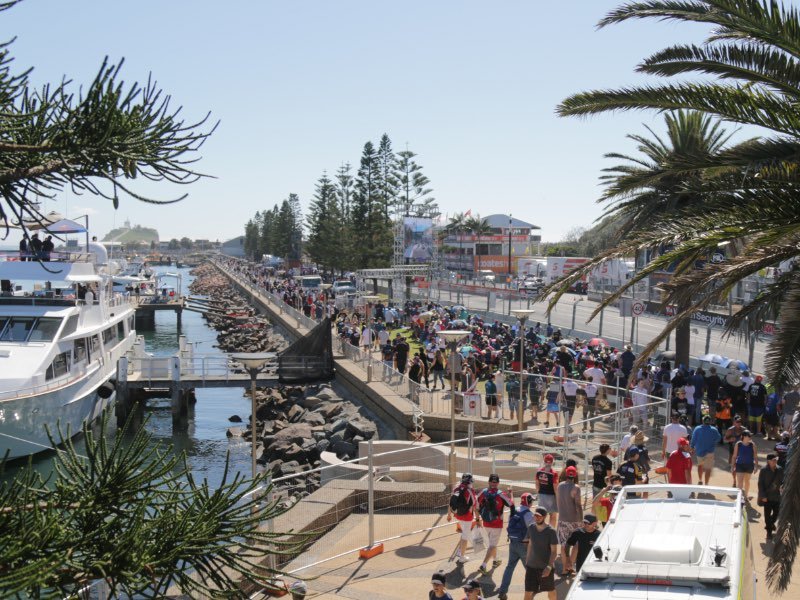 If when you hear the word Newcastle, your word association filter conjures up any of the following; BHP steelworks, Star Hotel riot, Knights Tavern or you start humming "don't you ever let a chance go by" (aka the Newcastle song), well you haven't seen her lately. Let me tell you she is all grown up and she's stunning!
However what is in its infancy is the Newcastle 500, and from what we saw over the weekend there is a fair chance it is this that will ultimately become synonymous with the word Newcastle in the years to come.
At the dawn of the sport around 1895 when they were racing from Paris to Bordeaux and blokes with names like Mybach, Damlier, Benz and Peugeot were making these prototype machines, they had no option other than to race on the streets. Monaco stands out as the gold standard of street circuits. First used in 1929, it was included as a round of the inaugural World Championship in 1950 and has long since become synonymous with everything F1. There are inherent compromises with street circuits for everyone involved, speeds are slower, tracks are narrower, less overtaking, spectators can't view that much of the action, and people and some businesses are inconvenienced. From a motorsport perspective the growth in the 'street circuit extravaganza' also has the negative effect in that fewer new dedicated motorsports tracks and facilities are developed which can be used by development categories, state and club level competitors and other enthusiasts. The countervailing argument though is that anything that brings the sport to the people, and then ultimately people to the sport, is a good thing – and boy did the people come to the streets of Newcastle.
For its part the Supercars series has had mixed results with street circuits over the journey. Arguably their most successful ones have been those developed and taken over from an international series such as F1 and Indycar, in the form of the Clipsal 500 and the Gold Coast 600. As for organically Supercar developed concepts, Canberra and Sydney Olympic Park didn't last, however Townsville will soon move into its second decade and appears to be going strong. Time will tell, but this one at Newcastle also looks a winner!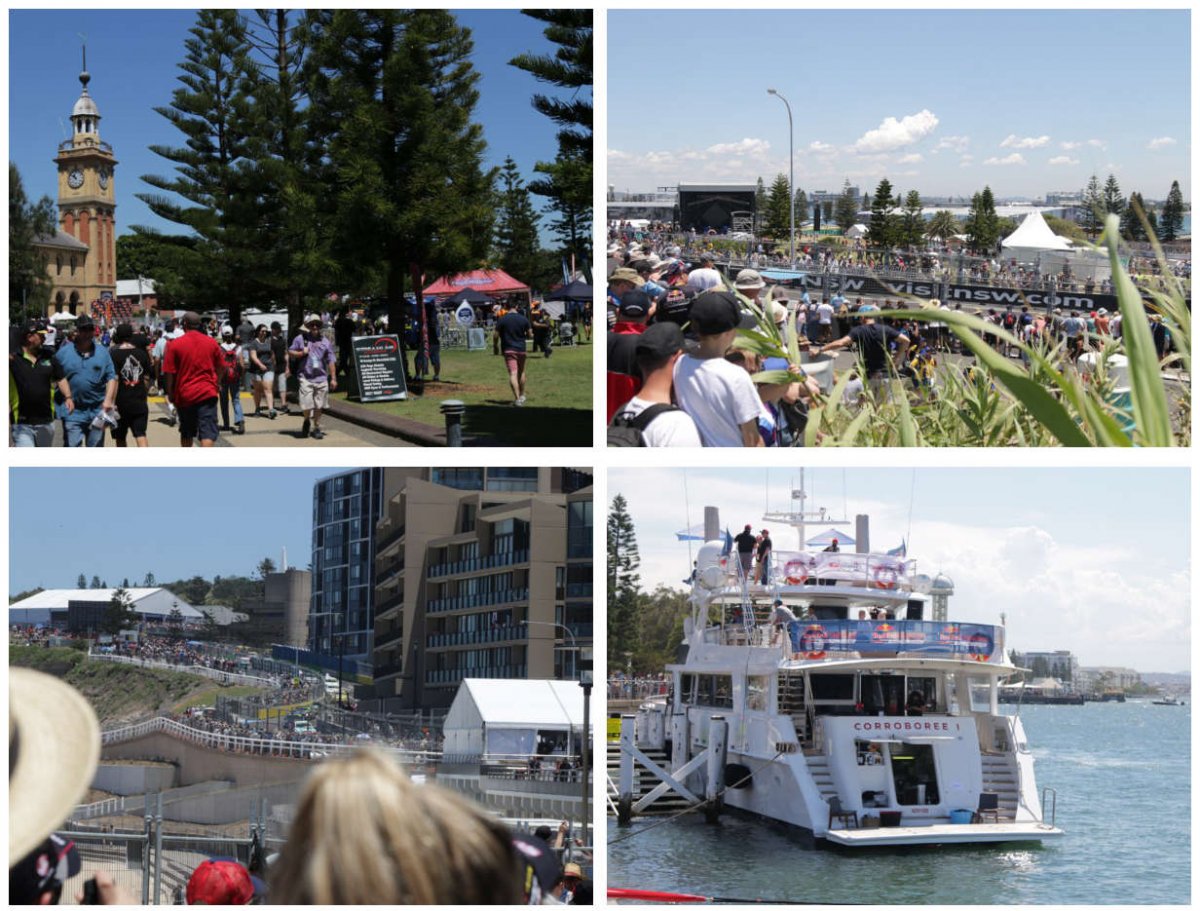 Axiomatic constructs of success for a race circuit appear to be elevation changes and water. For example Spa Francorchamps, Mount Panorama, even Pikes Peak for that matter, all have wow factor elevation changes. The F1 rounds at Canada, Singapore and the Yass Marina lend much of their visual success to their proximity to water. If you want the gold standard, you combine both elevation changes and waterfront views and you have Monaco. If you put a blue collar on it and give it an Aussie accent, you have the Newcastle 500.
It was an awesome event; the crowds, the weather, the environment all made it a great experience. Here were some of our observations and some hacks if you plan on attending next year: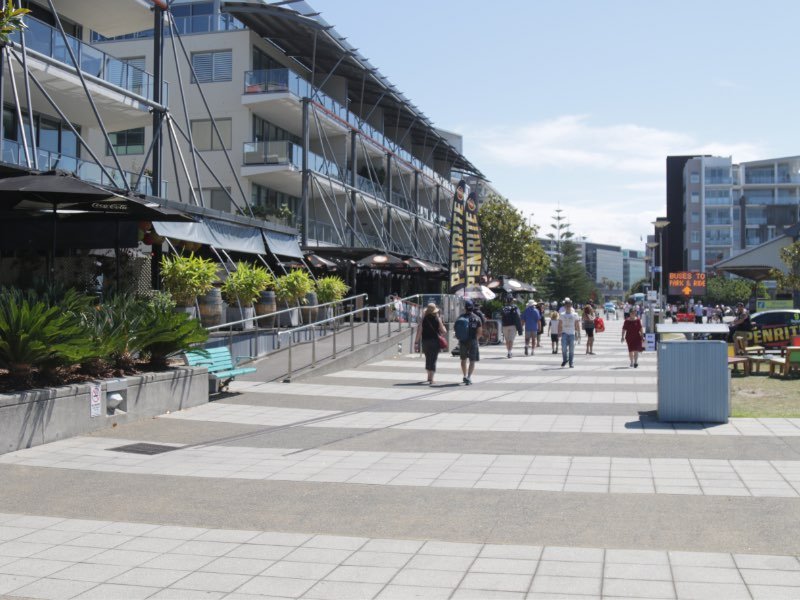 As you make the trek to Gate 1 along the Foreshore you pass all the restaurants and bars – very nice. If you happen to be along that area between 0730am and 0815am you were a good chance to bump into a driver walking into the precinct from the Crown Plaza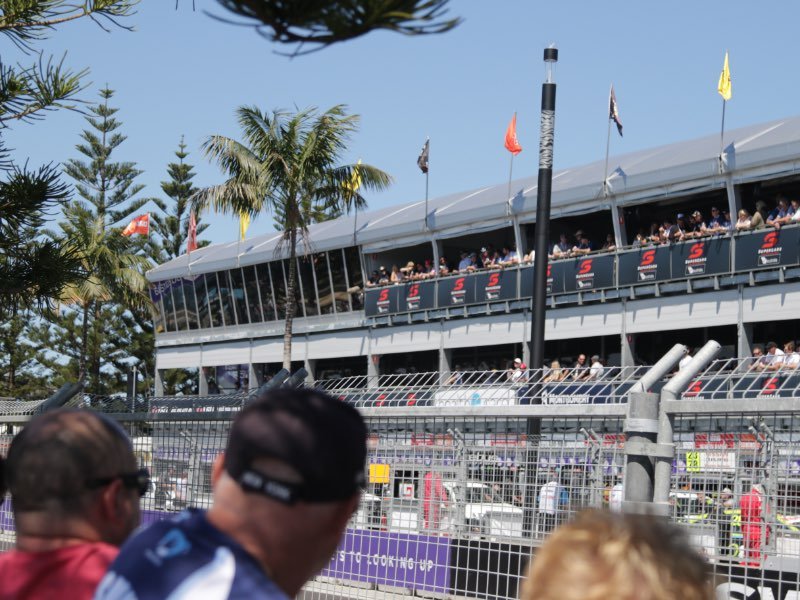 You need to have a grandstand ticket for the foreshore section of the track, (i.e. turn 10 to turn 1), or better still find a mate with either office or residential views of that section. There is trackside viewing there but it's not the best. The best trackside viewing is along the beach sections from turn 2 to 7. Also the ever present sea breeze along this section helps the player comfort level no end.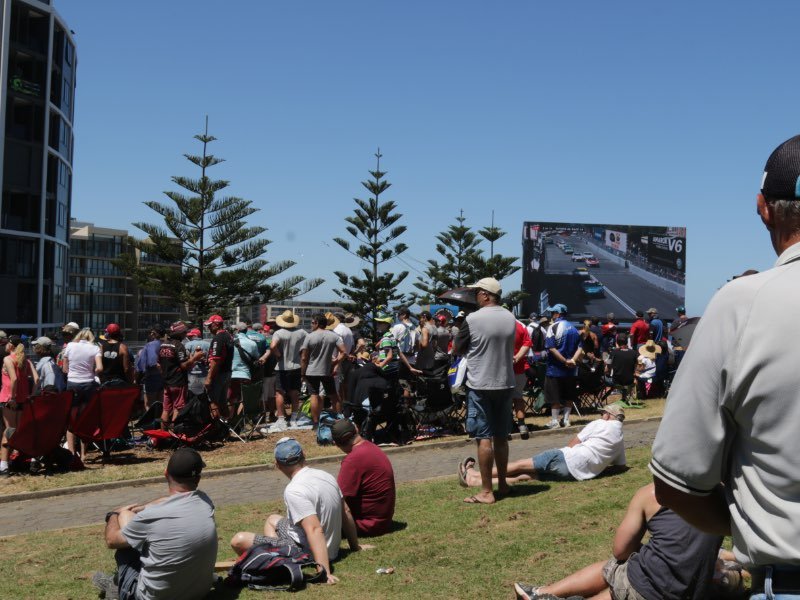 The outside of turn 2 is excellent for families with a grass hill area, a big screen and available toilets. There is a similar set up on the inside at turn 6 however it's further back from the track.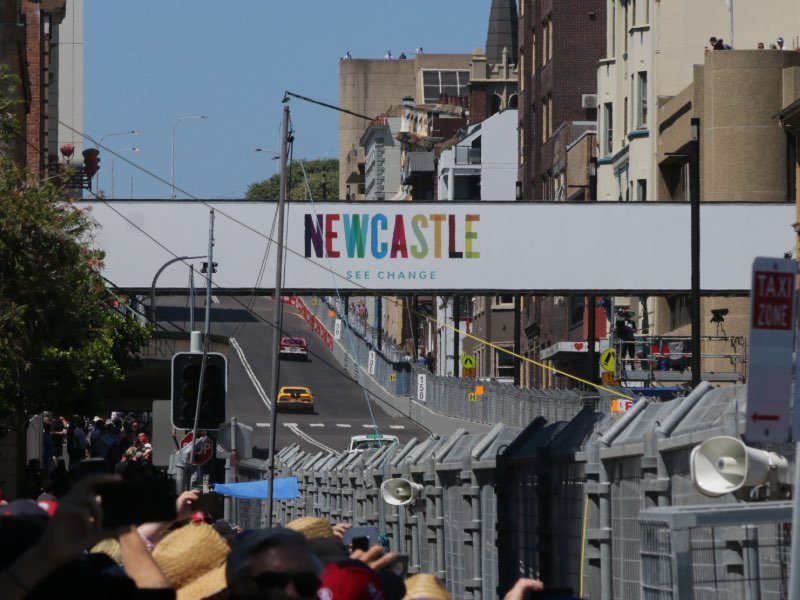 If you set up between turn 1 and 2 on Whatt Street and you didn't take ear protection - your ears will bleed. It's a cool spot, the run up to turn 2 is seriously steep and the noise just bounces off the buildings like some mad echo chamber.

You can't get paddock passes for this event, just a 'Mickey Mouse pit walk' (which is put on for free at a number of other rounds). They certainly didn't have the excellent paddock facilities that we could get to and enjoy at the former Olympic Park round.

An advantage of street circuits is you get much closer to the cars and this is definitely the case if you set up on the inside of turn 4. From this vantage point you see up the road as they get sooo close to the wall at the apex of turn 3 before they grab gears and accelerate straight at you at 4. They pass by in a 'zot blur' about 3 or 4 meters in front of you and a percussion wave of noise and forced air blows your clothes and hair up – very cool.
Have a look in the nearby nooks and crannies of the blocks within the precinct for food rather than spending 45 minutes at the front of a food van, in the sun, holding a ticket unable to hear what number is being called out.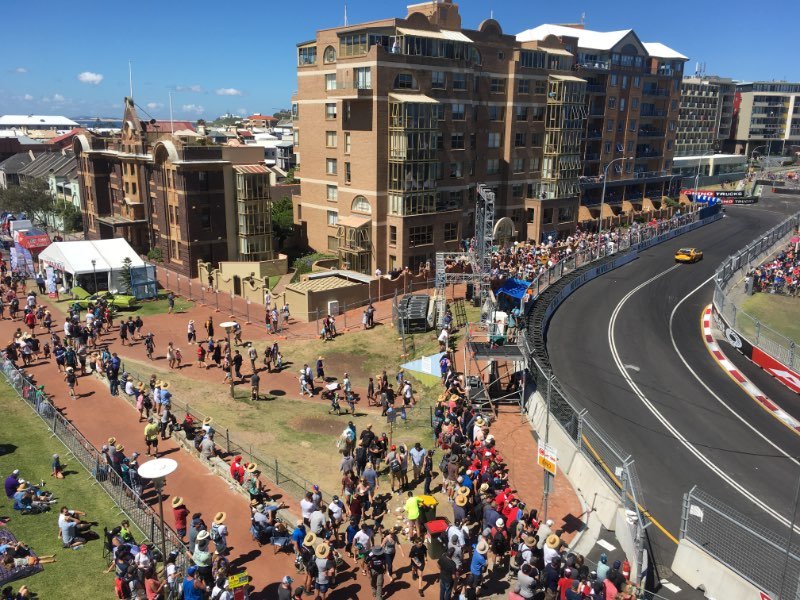 Take the opportunity to go under the tunnel at turn 6 and get a pass out and go to the beach and jump in the surf! It's just cool having a kick-ass beach less than the length of an Olympic pool away from the entrance to a premier motorsports event! Brilliant!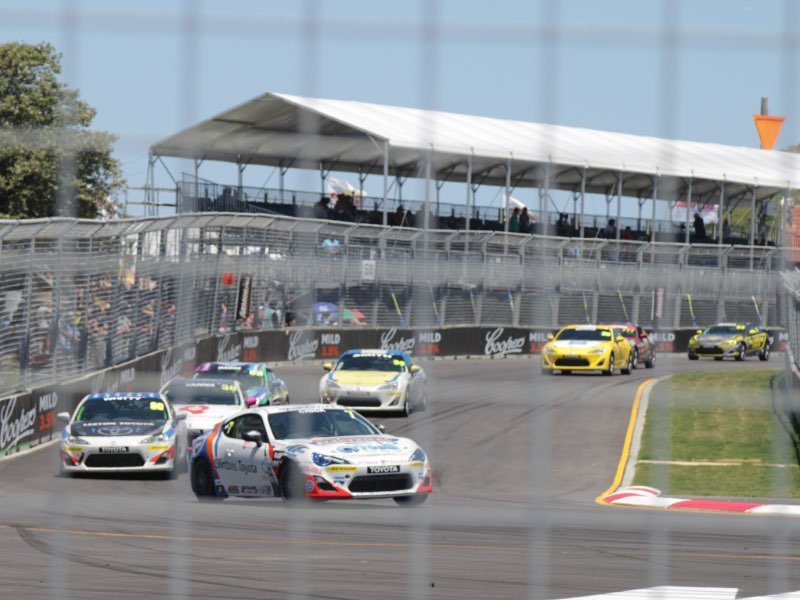 The run into turn 10 looks like they forgot to roll the tarmac and it unsettled the cars a treat. The turn 11 hairpin is good to check out in the early practice sessions as it seemed a difficult place to pull up and turn in.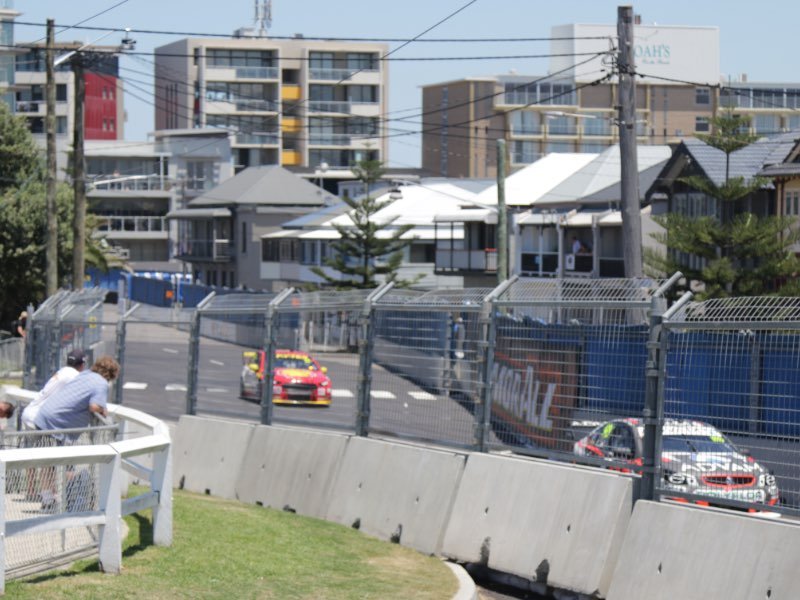 There is a chunk of the track you can't get to as it's deemed "Residents Area"; basically from turn 8 to top of the run behind Fort Scratchly on Nobbys Road before you get to turn 10. Every story has a villain – here it's the East End Residents Group, a humorless gaggle of Special Constables attached to the Fun Police. Not only is access restricted, in a further attempt to placate these beige souls, what looks like blue gym mats that you used in PE class at high school have been thrown over the top of the mesh fence. This is supposed to abate the noise? I'm no EPA type but I'm pretty sure it abated nothing when the F18's arrived and not much more when the cars arrived. But I liked the idea of 'seeing' the stupidity of the protestors by raising it with 'complete farce' – good job!
There was plenty of passing, not all without incident, but it was no precession. There were a number of safety car incidents but by and large the fear that there would be more yellow and red flags being waved than an anti-government protest in Thailand ended up being unfounded.
So, brilliant location, good track, great atmosphere and most importantly there was no shortage of action and drama. Talk about the vicissitudes of motorsport; what the track gave on Saturday it viciously snatched back on Sunday for Scott McLaughlin. McLaughlin's season was nonetheless impressive and surely it's a question of when not if he becomes champion. Congratulations to Jamie Whincup, he accepted responsibility for Saturdays setback and just went about it on Sunday, and like most champions he just finds a way to make winning a habit.
Anyway Newcastle we had a great time – see you on the inside of turn 4 in 2018!