As soon as you step through the gates into Summernats, it hits you in the face – there is constant noise and activity. A cacophony of rhythmic lumpy engines struggling to idle, wheels screeching, high revving valve-bouncing engines, superchargers whistling, hoops blowing and crowds cheering, all serve to provide a constant soundtrack wherever you go within the precinct. Confronted with this instant stimulus and combined with the knowledge that the Summernats program of events is choc-a-block, the whole process is very much a FOMO inducing assault on your senses. It creates a panic – you want to go everywhere and see everything in the next 10 minutes because this joint is going off! Having been to a number of Summernats, the calmer self knows that you have four days; relax, enjoy and let the event come to you. So I ran like a maniac to the burnout pad and then to the dyno shed before deciding I needed the relative calm of the pavilions.

The pavilion sections house the exhibitors who had the usual gear to make your chariot go harder or shine brighter. A new addition, in the smaller pavilion section was a Summernats Body Art Nationals. As well as showcasing inked up artwork, each stand was offering a Summernats 'show only' tough sticker that they would put on you there and then; and from what I saw there were plenty of punters in the chair taking advantage of the offer.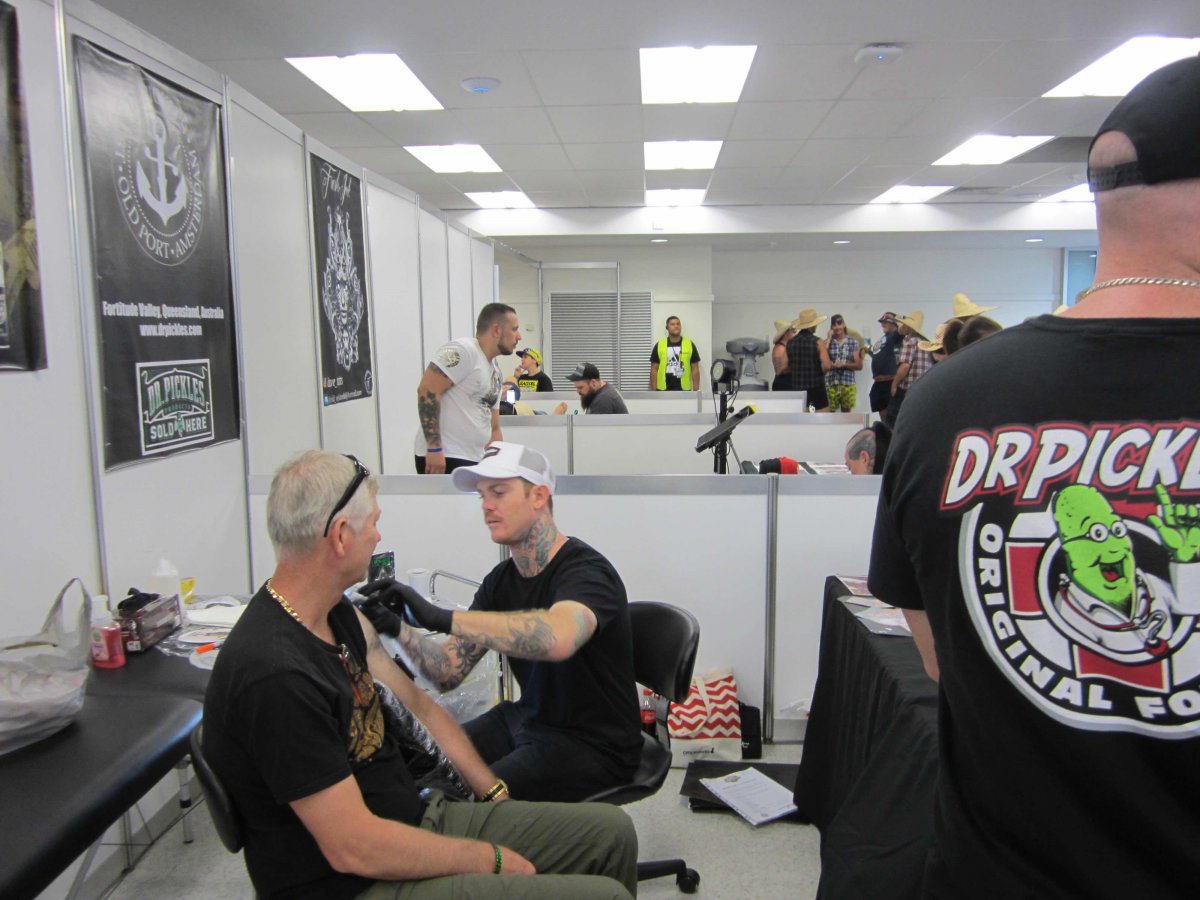 In the vicinity of the body art stands I saw what I thought was going to be that 'Pippa Middleton bridesmaid's butt -show stealing moment'. I saw a Porsche 550 RS Spyder, with the number 130 fashioned across the bonnet. As a young bloke I was very much influenced by the whole rockabilly genre and as such had the obligatory poster of James Dean next to his 130 Porsche Spyder. Now there was only about 100 of these things built back in the early 50's and I was about to go get up close and personal with one. I shouldn't have been disappointed when I saw it was a replica; I should have been impressed with the work in front of me. At some level I was – but – it was no Pippa Middleton's butt!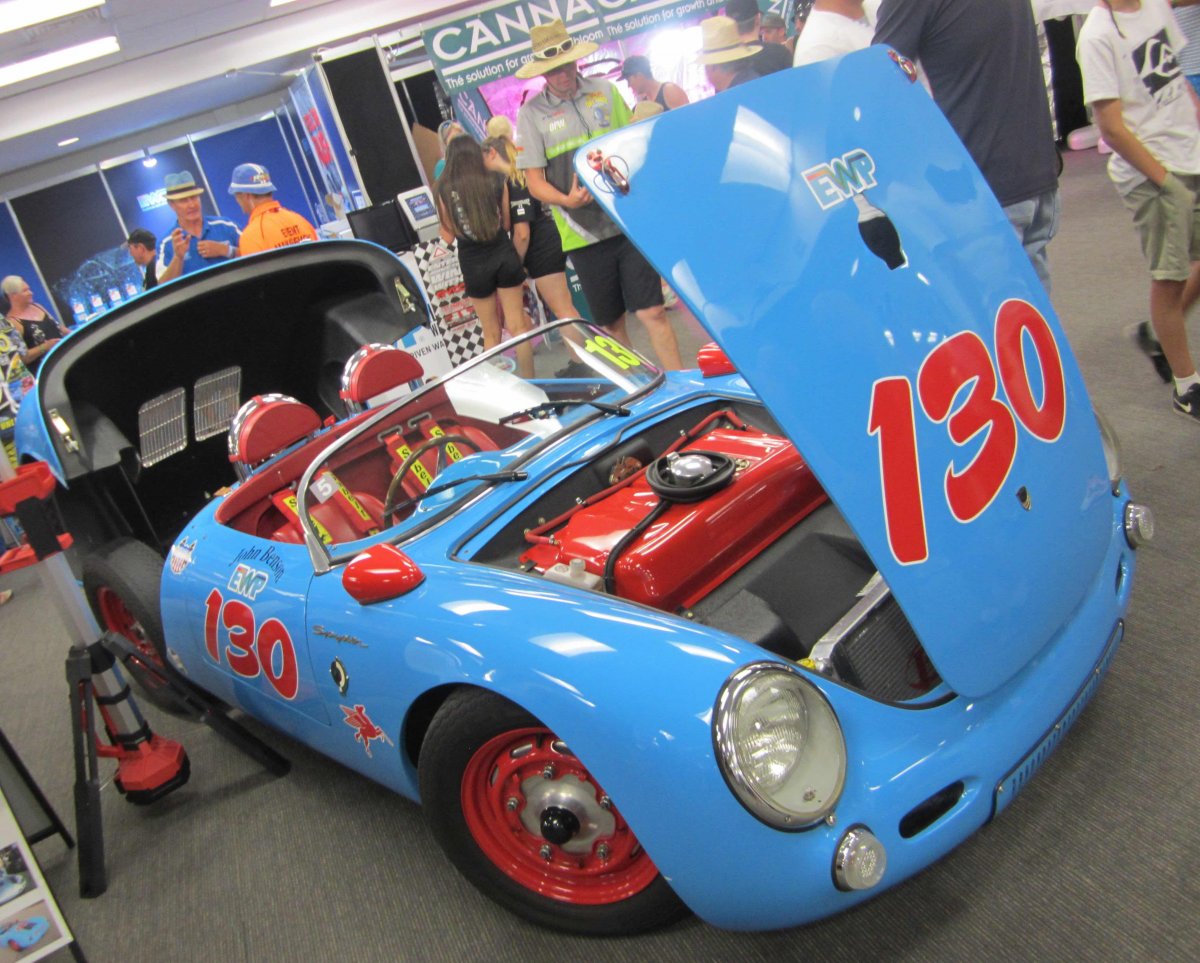 It was hot over the Summernats weekend, super bloody hot. There were times in the mosh pit of Tuff Street or while grabbing fence line around the Chic Henry burnout pad that it became apparent the festive season had taken a turn into the festy season. This was underlined by a new requirement for the burnout entrants this year. They were mandated to wear "two layer FIA fire suits", with the threat that if they couldn't provide their own suit, there would be a number of suits in various sizes made available for them to share. Given the conditions, there would be nothing fun about being 2XL suit wearer number 200 come Sunday arvo!
The Summernats Streeter entrants are required to be entered into the driving events, which I think is a cool combination of form and function. By contrast, the top end show and shine entrants, pretty much just get polished ….. and polished …..a lot. The attention to detail is eye watering and each meticulously turned out vehicle is genuinely a work of art. That said, even in the Miss Universe contest, at some point the host will ask the contestants a couple of questions, but here there are no questions asked of the Summernats high end beauties.

The burnout competition however is the antithesis of the elite show and shine – it's a pantheon of car abuse, with the crowd going nuts with each act of cruelty. That said – it's an awesome amount of fun and just like the elite show and shine you find yourself smiling and shaking your head a lot. I have, from time to time, been accused of lacking in mechanical sympathy, however I am a complete wuss compared to these cats – they brutalise their machines. Popping hoops is a given. Many competitors dye their rubber; blue, yellow, green, etcetera, providing for a spectacular smoke show. However when it changes colour to white, that is a signal to the crowd that the radial is screaming no more and will imminently blow, which in turn is the catalyst for even more encouragement from the crowd. You will see cars pulling mad revs with water pouring out the front of it, but .. ..still full noise; another will break an axle early in the run, but one side is still smoking so …… still full noise; the engine will catch fire and there may be a slight delay as it's put out, but as soon as its out … yep…. full noise. For the record a little fire will cost you a 5 point deduction from the judges – it's only in the instance of a "large fire" will the judges drop the curtain on you! It's not just the entrants that are hard core, some of the die-hard spectators spend hours on the fence and they work up a fair tyre tan, taking on the appearance of a black face painted extra out of Braveheart by the end of the day.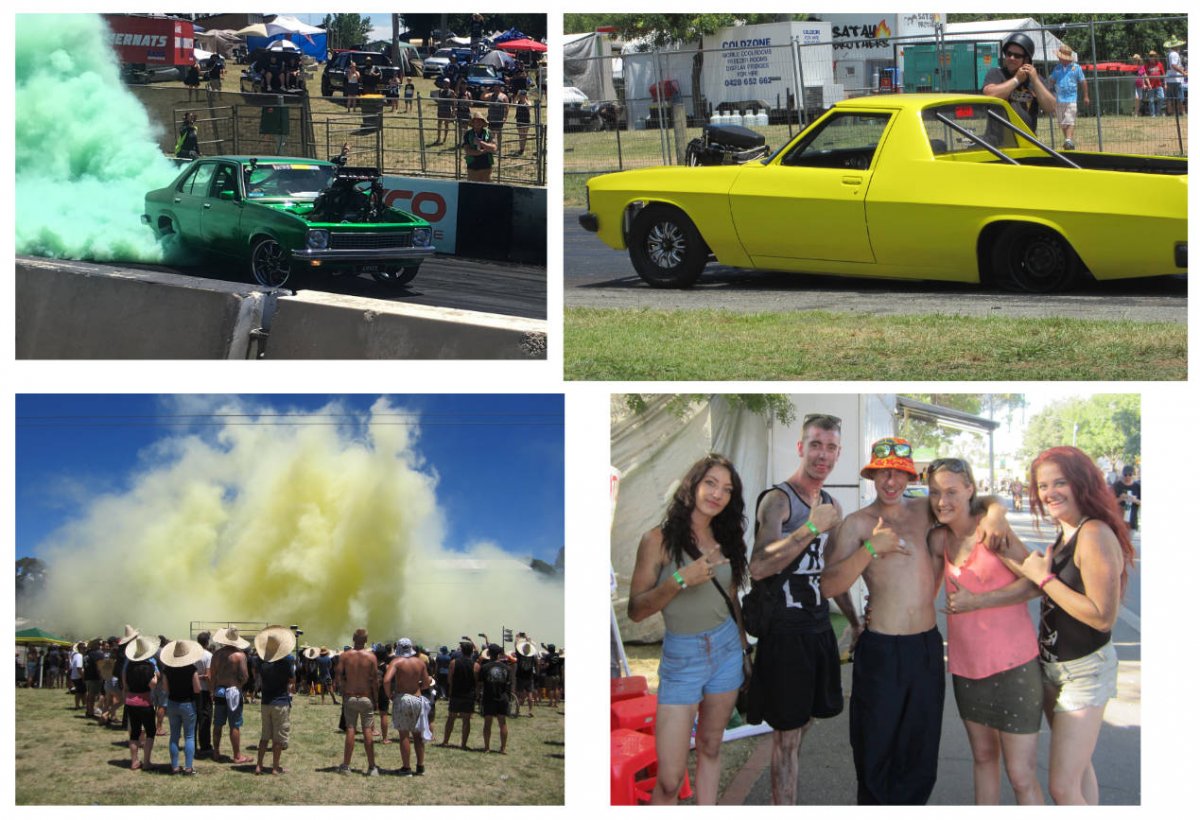 The driving events are fun to watch – the motorkhanna and circle work on the grassed area in particular. There is also the 'Heads Up Go-Whoa' which is added to the results of the driving skills events to determine the Drivers Championship. This separate event is kind of like a threshold braking exercise you might do in an advanced driver training course, the difference is though, you wouldn't be doing it in these kinds of cars!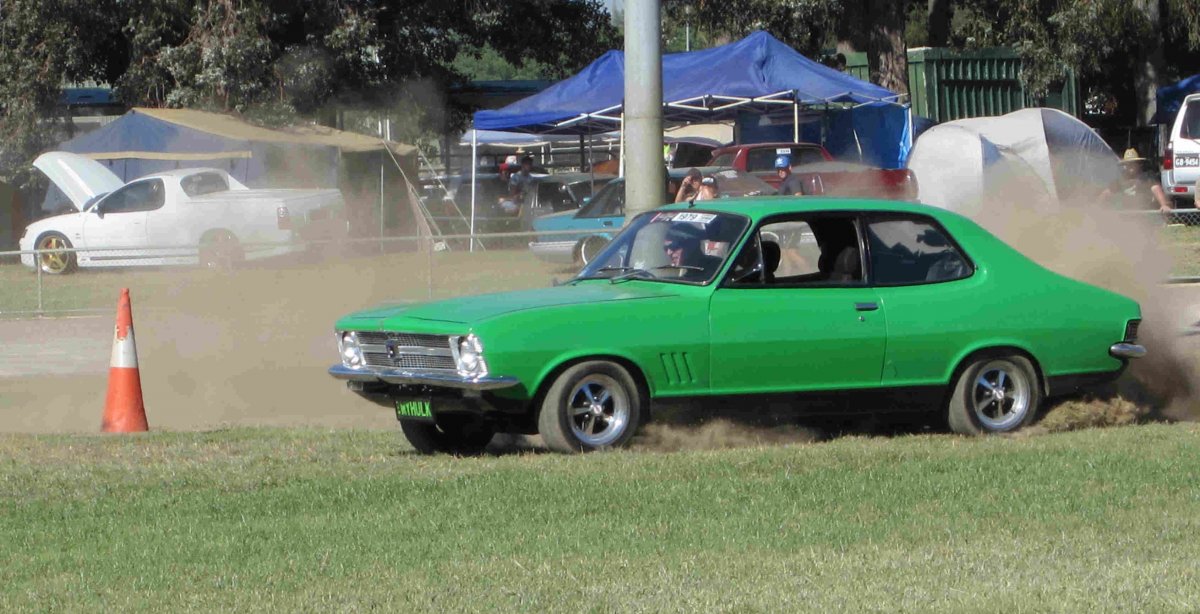 Then of course there is the never ending parade of cruising cars. Now this is a bit like trying to explain test cricket to a Yank… "yep it goes for five days and there is a good chance that at the end there will be no result – we love it!" Only in the case of Summernats it goes something like; "yep they drive around and around the same couple of kilometers of access roads lined with spectators who watch them go past – its grouse!" Honestly it really is a lot of fun and the conversations about who's done what to their car can last until said car comes back around on another lap.

Tuff Street is a concrete lined section behind the main grandstand that forms part of the cruising lap within the Summernats precinct – historically it has enjoyed a reputation for nefarious shenanigans. However to be honest, in contrast to other visits, it was all pretty tame and well behaved this year from what I saw – a few criminal haircuts notwithstanding . It was near the entrance to Tuff Street that we bumped into Gary Ramage taking a photo of the Cougar Crew girls. Ramage is a war photographer and subject of the book 'The Shot', a man who has worked in some of the hardest places on the planet, all of which makes me think that Tuff Street must be a bit tough after all.

Of all that was on offer at the Summernats, for me it's all about the hot rods. Our penchant for the retro at the Pack should be obvious by now, hence a good part of my time was taken up hanging around the Hot Rods and there were heaps. There was Roadsters, Tudors, Coupes and Rat Rod versions of the same to suit every taste, with all manner of engines exploding out the front of them. There were a number of very nice machines perched out front of the Beatnicks Koolsville tent. These guys are annoyingly talented artists who know how to have a good time and had some impressive cars that showcased their talents. As a kid I preferred the coupe style of the Ant Hill mobs car as opposed to the Turbo Terrific dragster in the Wacky Racers cartoon, and even today I sometimes find roadsters a bit kitsch. But most of all this year, it was some tastefully put together roadsters that seemed to catch my eye and interest. Having taken in what Summernats 2018 had on offer, I found myself at some point just wandering around when I heard Midnight Oil belting out "Power and the Passion" through the P.A. This made me reflect that if Summernats needed an anthem, this would probably be it, as it truly is a four day celebration of the power and the passion!