"Tis the season!" and over the last couple of weeks in addition to fielding orders from the online store, we have been out and about running casual shopping mall leases in an effort to provide Santa options for those in the community that love nothing more than a 'Blat'! It's been a great opportunity to meet so many owners of vintage bikes, café racers and classic cars and chat with enthusiasts who appreciate the style and history of old school racing. A subject that comes up in discussion a bit is the relative merits of various collections and motoring museum exhibits, and one that always seems to rate highly is the Donington Exhibition in the UK.
In blog four we made reference to this shrine to speed when discussing an impressive BRM at the AHRA Summer Festival, so all this has made me reflect upon my experiences there and perhaps provide encouragement to anyone travelling in that direction this holiday season.
So if you find yourself stuck on one of the thousands of "ABC tours" of Britain and Europe, (aka Another Bloody Castle tour), it's well worth trying to escape for a day and follow the signs to Derbyshire and visit the exhibition. Derby is in the middle of England and as best as I can tell it's not really known for that much. The countryside is pretty and for years up to the new millennium their home team's football ground was known simply as 'The Baseball Ground' - which seems odd. Beyond that there's nothing remarkable or anything that offers up a clue of the Blat gold that resides close by.
Castle Donington is a well-known race track to UK race fans however, having previously hosted a memorable round of the 1993 Formula1 World Championship and numerous MotoGP events, as well as a host of national and local race meetings. In addition the track is the home of the Ron Haslam Race School. Adding further to its 'Blat cred', Stuart Garner, a well-known local entrepreneur and architect of the most recent Norton revival, acquired nearby Donington Hall and Hastings House, with the latter being Nortons production facility which sits alongside the Donington racetrack. And then, there is the Donington Grand Prix Collection, (or Exhibition as it is now known).
The late Tom Whaetcroft owned the circuit and set up the museum in the 1970's, originally from his own collection of cars. In addition to being very successful in building and construction he was a huge Ayrton Senna fan - which makes him alright with me. To this end it seems fitting that one of Senna's most impressive efforts occurred at Donington. During the European GP held at Donington in 1993, Senna's brilliance took the suboptimal Peugeot McLaren from fifth place to first in one lap in poor weather conditions. The memory of Senna is a large part of the Donington display. For example the McLaren Hall culminates with a tribute to Senna; where an image of Senna and a Brazilian flag is draped around the actual car he drove so manfully back in 1993.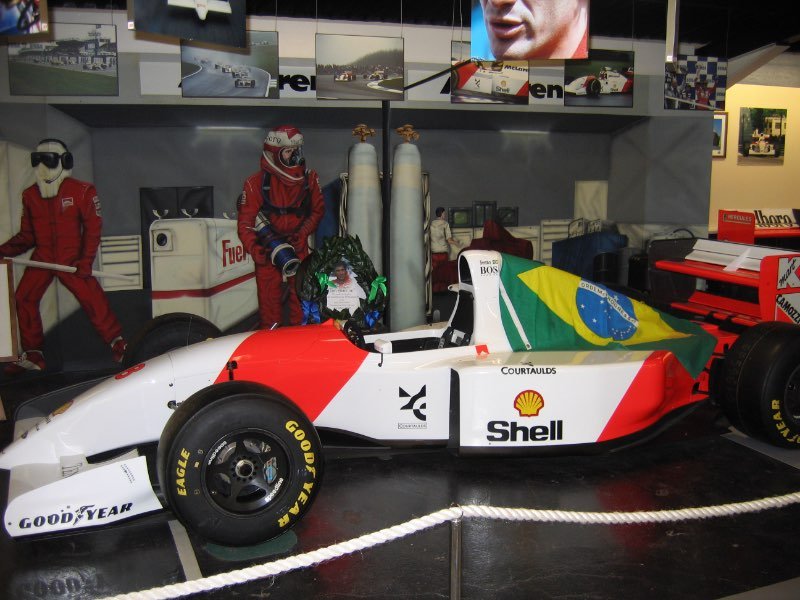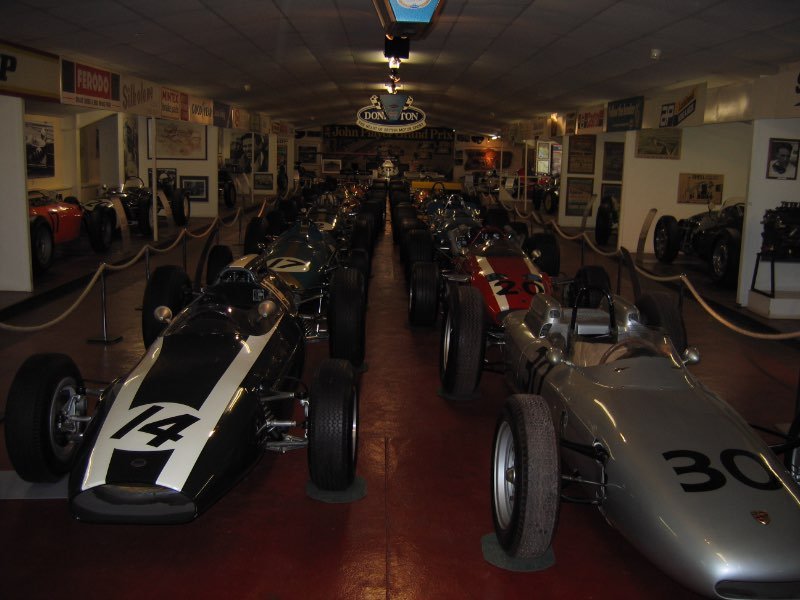 Entrance to the collection is via a flagged lined pathway from the car park. As you walk you see from the outside that it comprises a large shed that is roughly the same color as Dr Who's Tardis. Before you go into the foyer you pass a statue of Senna and Fangio on your right – the first of about a thousand photo opportunities you are about to encounter.Once inside you begin to understand the significance of the Tardis paint scheme. The place just goes on and on, you pass from one hall to another to another. You catch glimpses of the race track from the windows here and there but by now you have lost all sense of direction. But this isn't the only sensory overload. It is not a construct of halls with the odd exhibit here and there and miles of polished wood floor between them – nope each section is FULL with displays. Hence if you do plan a trip there, and you are travelling with a friend or a significant other that maybe doesn't quite have the same love for the Blat as your good-self; firstly, find a better mate, but in lieu of that, send them off to look at a Castle or something because this is going to take a while.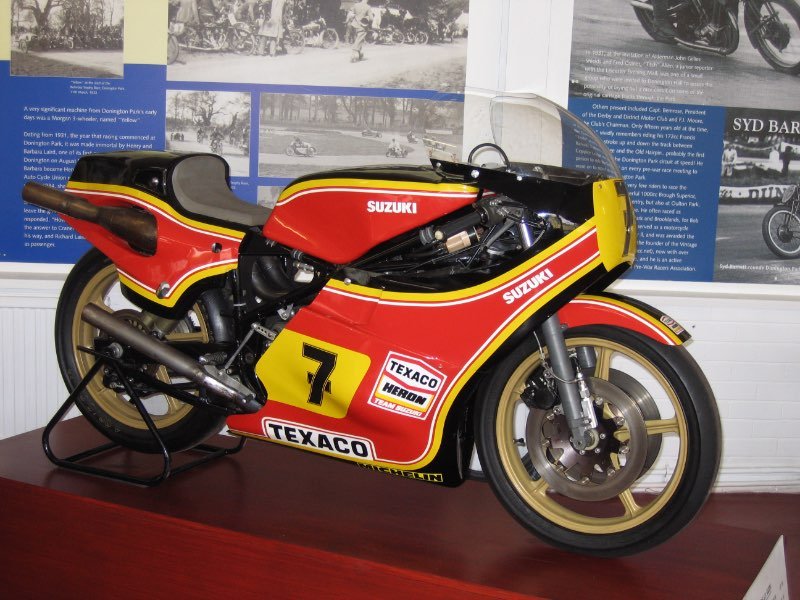 In through the entrance there is a lot to take in but an old Auto Union to the right will draw your attention. There are cabinets full of figurines and nick knacks, there are a few bikes including an old Barry Sheene Heron Suzuki, side cars, speedway midget racers from back in the day, and this is just the intro. Inside its quiet, like a church, and it's legit in as much as it smells like a garage rather than some glitzy lightweight car show.
There is a raft of McLarens and Williams cars that trace the changes in regulations, engine capacity and configurations as well as livery over time. The McLarens, (located unsurprisingly in McLaren Hall) is visually impressive and in addition to the Senna rides it includes Hunts 1977 car and Prosts' championship wining 1985 MP4/2.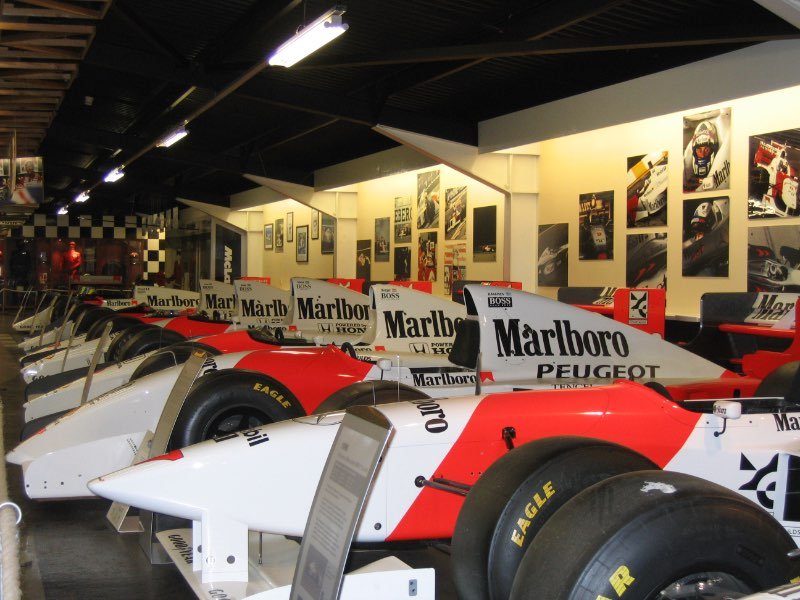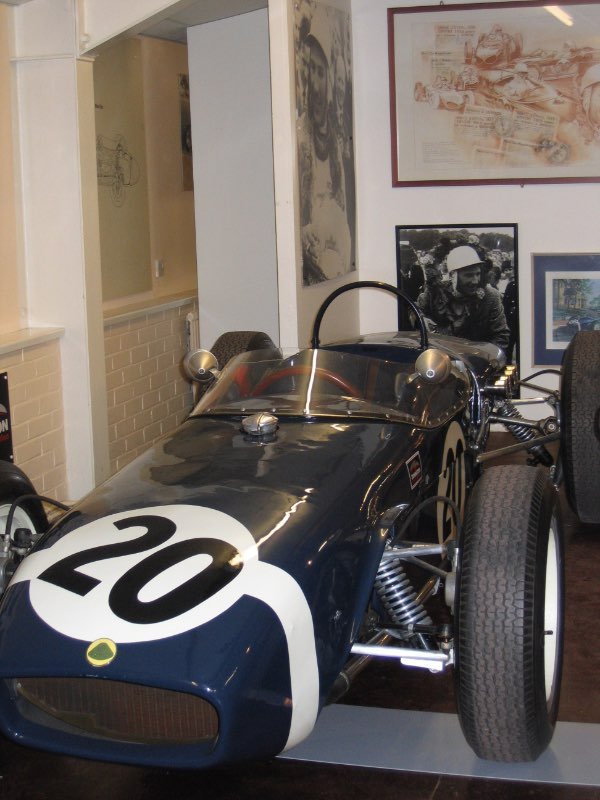 This is what I believe sets this collection apart as it doesn't just present an example or replica it presents the most notable examples of some of the most significant racecars you can see in one collection. For example the 1961 Lotus 18 is the exact car that Moss drove to victory in the Monaco GP in arguably one of his most famous drives of his career. A change in regulations that year had seen engine capacity fall from 2.5 litre to 1.5 litre, the Ferrari's had adapted quicker and more successfully to these changes in the form of the 'shark nose' Ferrari. In the race however Moss used the underpowered Lotus to withstand a barrage of attacks from the various Ferrari drivers to secure a famous victory.
Other notables include Hunts 1974 Hesketh, the Lotus 72, Senna's first F1 car the 1984 Toleman, the Vanwall collection and a collection of helmets that includes the likes of Mike Hawthorn and Juan Manuel Fangio.
At some point you may find yourself thinking, if a genie appeared out of an oil can and offered to pick the pocket of Mr Whaetcroft Jnr and throw you the keys to just one of these machines, which would it be? Obviously an unanswerable question, and the answer would likely change on any given day BUT …. I reckon the Lotus 72.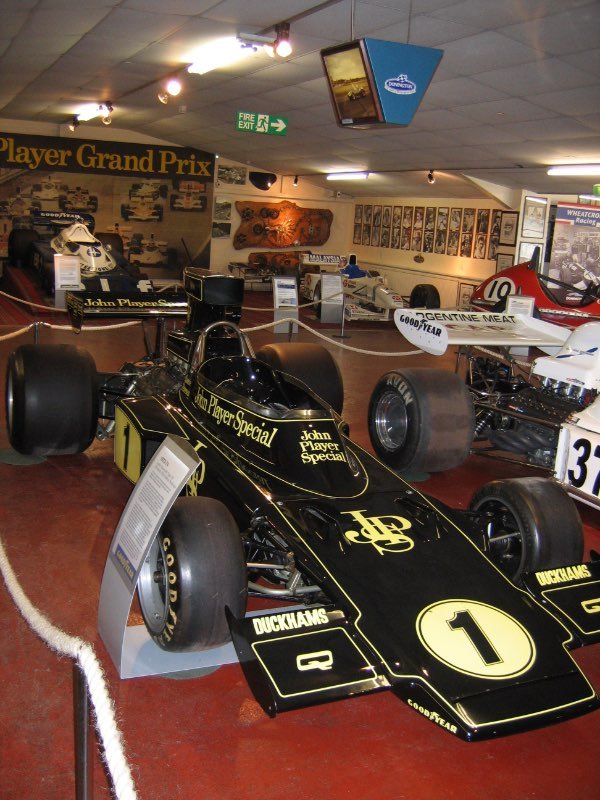 In a place of presence that thing has serious presence. It sits there, imposing, bigger than anything else around it, like Lord Vader ready to light sabre the shit out of anyone who gets in the road – awesome!
Anyway there is no such thing as a pick pocketing genie, might have to go with plan B and ask Santa!